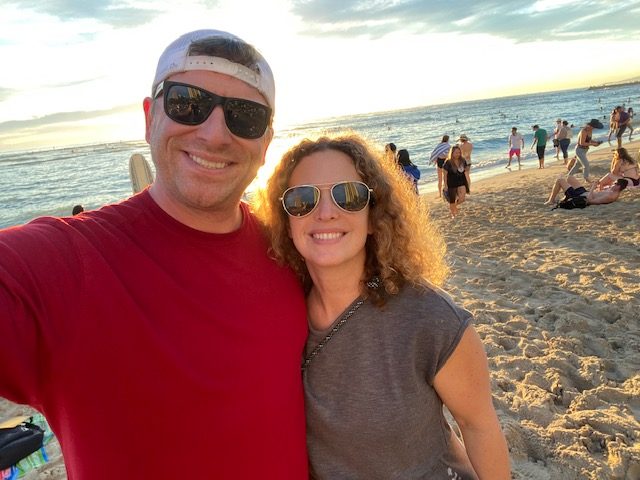 ---
When you meet Noblesville resident Abbey Hash, it's immediately obvious she's not easily shaken. Friendly and confident, she takes life as it comes at her, focusing on what she can control and letting go of the rest. It was this composed attitude that helped Abbey overcome one of the most challenging experiences of her life—fighting breast cancer.
"I went in for my annual OB/GYN exam two months after I turned 40 and my doctor, Dr. Stephanie Brazus, said, 'You're 40, I'm sending the request over for you to get your first mammogram,'" Abbey recalled.
Abbey is a devoted wife and the mother of two, so she likes to stay on top of her health for her family. At Dr. Brazus' recommendation, she promptly scheduled her mammogram at Riverview Health Bone & Breast Center for March 27, 2022. But what is typically a routine scan for many turned into a life-saving decision for Abbey.
"After my mammogram, I got the call that there was a concerning abnormality. And by April 4, 2022, I had my cancer diagnosis," Abbey said.
Hearing the cancer diagnosis was a surreal experience for Abbey. But she focused on taking one step at a time.
"It was like 'alright, let's go make sure everything is okay—what's the next step,'" Abbey said. "The staff at Riverview Health Bone & Breast Center were so kind and thorough and made sure I knew what was happening every step of the way. It went very quickly, but I never felt rushed."
After her diagnosis, Abbey was referred to Riverview Health surgeon Dr. Samuel Heiser. Dr. Heiser has been a surgeon for 31 years, 25 of which have been at Riverview Health.
"Abbey had a couple sites of cancer in her right breast," Dr. Heiser said. "Additionally, an MRI revealed that she had early cancer in her left breast also."
But despite the shocking news, Dr. Heiser noticed how Abbey took her diagnosis in stride.
"Abbey was remarkably calm," Dr. Heiser said. "When she arrived at my office, she had done her homework and was thinking a double mastectomy was the right choice for her. After the MRI revealed she also had cancer in her left breast as well, we all determined that was really the best option for her."
Abbey also knew she wanted to undergo immediate reconstruction with implants after her double mastectomy, so Riverview Health plastic surgeon Dr. Joshua Tieman was called in to meet with Abbey and to discuss her options.
"My goal for all my breast cancer patients is to get them feeling as whole and complete as I can," Dr. Tieman said. "Breast cancer is a frightening disease, and it robs so much from the women it affects. I strive to help patients feel comfortable in clothing again and like they don't have to hide anything."
After his initial consultation with Abbey, it was clear to Dr. Tieman that she was going to be a great candidate for reconstruction.
"Abbey is young and healthy, besides her breast cancer diagnosis," Dr. Tieman noted. "She takes good care of herself, has good skin quality and doesn't smoke. When doing a pre-op evaluation, I look at the risks for a direct-to-implant reconstruction at the time of the mastectomy. Abbey was a good candidate for this because of her health."
While Abbey was a good candidate for immediate reconstruction, Dr. Tieman cautioned that things could change during surgery, depending on what Dr. Heiser found and how her mastectomy skin flaps looked. Both doctors emphasized that removing the cancer came first—cosmetic goals were second. And as usual, Abbey had a great attitude about it.
"I preferred to have the implants when I left, but my focus was on getting all the cancer out," Abbey said. "If I had boobs when I woke up—bonus! If not, it was okay."
Dr. Heiser and Dr. Tieman worked collaboratively during Abbey's surgery, and thankfully, her final pathology didn't give them any surprises. Dr. Heiser was able to remove all cancerous tissue, and there were no signs of the cancer spreading to Abbey's lymph nodes. Additionally, Dr. Tieman was able to immediately perform reconstructive surgery and place Abbey's implants.
"Abbey had a great attitude and a very good cosmetic result," Dr. Tieman said. "She's done extremely well post-operatively—even better than I thought she would—and has just been really fantastic in every way."
Thankfully for Abbey, she did not have to undergo chemotherapy or radiation after her surgery. Instead, she will see Dr. Deng Zhang with Hematology Oncology of Indiana for hormone therapy medication moving forward.
"Working with Dr. Heiser and Dr. Tieman was amazing," Abbey said. "They were both very thorough and made sure I was informed every step of the way. I never felt rushed in their offices."
When asked what advice she had for other breast cancer patients, Abbey stressed finding a support system—no matter what that looks like.
"This disease not only affects you physically, but there is a pretty big mental toll—not just when you find out you have cancer or while you're going through cancer, but also on the other end," Abbey said. "I know that there are still times that I need to cry or call a friend to talk. To anyone who is getting ready to go through this: find your support group. Whether it's the people in your home, family, friends or strangers that become your friends through support groups. This is not something that you're going to want to go through on your own, and it's not necessarily going to be over even once you're cancer free. You're still going to need that support."
Testing before her surgery revealed Abbey has no genetic abnormalities that would predispose her to breast cancer, and she has no family history of the disease. Because of this, Abbey urges others to take control of their health and to not procrastinate getting their yearly mammograms.
"I'm only 40 years old, and I am a healthy, fit woman," Abbey said. "There is no rhyme or reason as to why I had cancer. If I had procrastinated and pushed back my mammogram a year or two, we would be having a very different conversation about my journey through breast cancer. Early detection 100 percent shortened my cancer journey and it most likely saved my life."