Kenyatte Sims-Hall is a hard-working mother of three and the wife of a soldier. Despite having her hands full, she's always been on top of her health.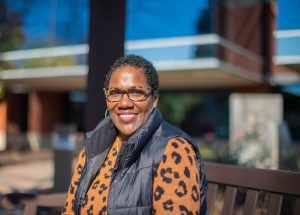 "I get check-ups and normal preventive care," Kenyatte said, "But nothing has ever been wrong."
In early 2019, Kenyatte started to experience a prolonged cough, accompanied by heartburn. She's always been familiar with her body, so she knew something wasn't right. In May 2019, she decided to seek a professional opinion.
"It was my body warning me that something was wrong," Kenyatte said.
When a biopsy on a swollen lymph node came back negative, she decided to get a second opinion at Riverview Health. In January 2020, she was diagnosed with stage 2 B-cell lymphoma. Though she was scared, she was quickly reassured.
"My doctors told me this is a treatable cancer," Kenyatte said. "My team was comforting and made me feel like this was something I could beat."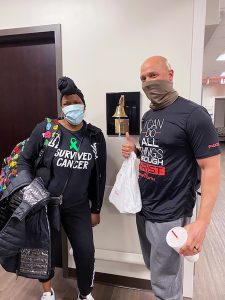 After her first chemotherapy treatment, Kenyatte was transferred to the Courtney Cox Cole Infusion Center at Riverview Health for the remainder of her treatments with oncologist Dr. Ruemu Birhiray. Her treatment plan consisted of six chemotherapy infusions every three weeks.
"After my first chemo treatment, I didn't have a reaction," Kenyatte said. "I was fine and thought the treatment wasn't working."
But by her second treatment, the side effects came on strong. Going forward, her chemo sessions would leave her feeling nauseous, dizzy and eventually she lost her hair.
Every treatment was different and brought on different things," Kenyatte explained. "Sometimes I lost my sense of taste, smell and my appetite. Even water was difficult to swallow."
By the time she started to experience side effects from chemotherapy, the COVID-19 pandemic had taken off in the United States.
"We kept hearing about new symptoms of COVID-19," Kenyatte said. "Nearly all of those symptoms are the things that also happen to cancer patients."
Despite the uncertainty of the pandemic, Kenyatte felt safe in the Riverview Health infusion center during her treatments. In 2019, Riverview Health unveiled a brand new infusion center that is expansive enough to give everyone space to social distance.
"Everyone seemed to know what they were supposed to be doing," Kenyatte recalled. "No one ever made me feel stressed out."
Other than going to the infusion center, Kenyatte and the rest of her family stayed home to keep themselves safe. Due to visitor restrictions at the hospital, her husband had to wait in the car during one of her chemotherapy treatments. But Kenyatte never really felt like she was alone.
"The infusion center staff members were so kind and supportive," Kenyatte said. "They were there for me when my husband couldn't be. They really made it a good experience."
During this strange time in Kenyatte's life, she really got to know her team in the infusion center. She grew close to one nurse in particular, Maria Cline, RN. Every time she saw her, she knew she was going to be OK.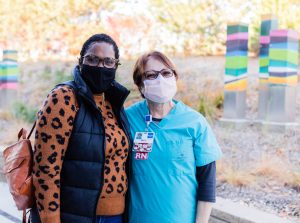 "Maria is amazing—she always made me feel important," Kenyatte said. "After our first meeting, we were friends. After our second meeting, we became family."
On April 7, 2020, Kenyatte received the news that she was cancer-free. And on May 8, 2020 she went through her last chemotherapy treatment with her husband and her infusion center family by her side.
"Getting a cancer diagnosis is not a great feeling," Kenyatte said. "It's important to have people support you. And I found that at Riverview Health."
Learn more about the Courtney Cox Cole family and infusion services at Riverview Health >>