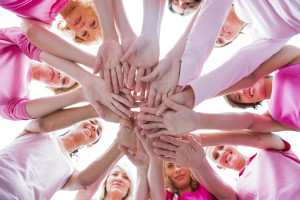 By Brittany Nelson, MS, RD, CHWC
Taking active steps to prevent breast cancer is something all women (and men) can do. There are many risk factors that can increase the risk of breast cancer. The National Cancer Institute provides an excellent tool called the "Gail Model" which can be helpful in determining your specific risk.
Some specific preventative steps include living an overall healthy lifestyle, having healthy eating habits and getting regular physical activity, avoiding things known to cause cancer like smoking, and taking medicine to treat any precancerous conditions.
But what happens when understanding risk and practicing prevention is no longer an option? What happens when a breast self-exam becomes a diagnosis? Many women and men face this fearful chapter in their lives, and feeling fearful and uneasy is no way to live.
The Riverview Health Women's Center for Breast Care, with support from Susan G. Komen, has created the following list of steps to help you or your loved ones navigate this difficult time:
First, understand your diagnosis. Learn about the tumor type, lymph node status and breast cancer stage. Bring a loved one to the appointment to have four ears actively listening.
Second, understand the types of biopsies available and their full benefits and risks. Ask your doctor to explain all pathology reports in full and review the different treatment options. Again, don't forget about the benefits and risks of each treatment option.
Third, speak to your doctor and other members of your healthcare team again so you fully understand everything there is to know (and everything you're interested in learning about).
Fourth, understand what type of assistance and support is available to you. There are a variety of "ins and outs" of insurance, financial resources and treatment assistance out there.
The Riverview Health Women's Center for Breast Care offers these personalized services if you or a loved one is in need. Special areas within the Women's Pavilion are available for meditation, prayer and reflection including a serene retreat, and peaceful healing garden. Lastly, Riverview Health offers different community education classes, seminars and health fairs to assist you throughout your cancer-fighting journey. Remember, it's important to ask many questions, ask for assistance and remember you're not alone.
References:
http://ww5.komen.org/
https://www.riverview.org/services/cancer/breast-care/