Janet Durr, a nurse of 35 years, knew she needed to volunteer at the COVID-19 vaccine clinic at Riverview Health. She felt it was time to do her part to help the community during a difficult time.
When COVID-19 became prevalent in Indiana, it presented a new challenge to Janet's nursing career––constant uncertainty. Because of the virus, she was no longer able to assist her patients in the same ways she had before.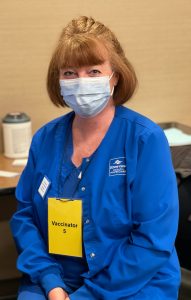 "There was so much unknown about the virus in the early days," Janet recalled. "Patients would call with questions, and the answers to their questions were often still unknown."
The unpredictability left Janet feeling helpless, something she wasn't used to during all her years of nursing. But this feeling would soon change when she became a vaccinator for the clinic.
"When the vaccine clinic opened, I knew I belonged there," Janet explained. "I knew being a vaccinator would help restore what was currently lacking for me professionally."
Becoming a vaccinator for the COVID-19 vaccine clinic allowed Janet to have a positive effect on patients, and she knows she is saving lives by administering vaccines.
"I often refer to the vaccine as 'the shot of hope,' and that is the atmosphere of the clinic––hopeful," Janet said. "It's nice to be a part of that."
For many people who step foot in the vaccine clinic, it's the first place they have been since the pandemic began, and the volunteers are often the first people they've socialized with outside of their homes in months. As a volunteer, Janet has heard many beautiful and emotional stories from individuals who are grateful to be receiving their shot.
"It's incredible to be a part of the healing that is taking place in all of us as we recover from the past year," Janet said.
To check eligibility and to search for a nearby COVID-19 vaccine clinic, please visit ourshot.in.gov or call 211.