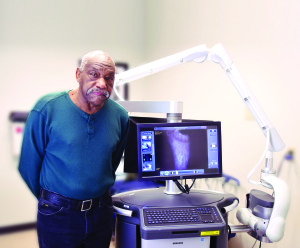 Retired Noblesville police officer Charles Jones, Jr. is a man of few words. But if you ask him about the time he nearly lost one of his big toes, he has a lot to say.
He'll tell you about the excellent care he received from physicians and nurses at Riverview Health and how the technology used by Riverview Health Wound Care helped save his toe. In June 2014, Charles, who has had Type II diabetes since
1990, noticed a quarter-sized sore on the inside of his right foot near his big toe.
"It was painful, but I could still walk," Charles said. "So, I thought I'd give it some time to heal."
With some urging from his wife, Sheila Jones, he made an appointment with his Riverview Health primary care physician to get it checked out.
"My doctor told me I had a diabetic foot ulcer," Charles said. "I was surprised. I didn't know how I got it."
Charles was referred to Riverview Health infectious disease specialist Tracey Ikerd, MD, who has extensive experience treating diabetic foot ulcers and non-healing wounds.
"When Charles came to our wound healing center, the severity of the ulcer was immediately apparent," Dr. Ikerd said. "I was extremely concerned about the blood flow to that part of the foot."
To assess the blood flow, an ultrasound of the arteries was performed, which showed the blood flow was normal. But Dr. Ikerd also ordered another test using a progressive technology called LUNA Fluorescence Angiography, which showed the blood flow was seriously lacking. Riverview Health is the only facility in Indiana that has the LUNA system. The technology works by injecting a harmless dye in a person's arteries, which is then visualized by a laser camera to show blood flow in the skin.
"Other technology only reveals blood flow in the large major vessels," Dr. Ikerd said. "It's the skin that's not healing, not the vessels."
Riverview Health purchased LUNA last year, and it has proved to be a useful tool.
"After a consultation with a vascular surgeon about Charles' test results, it was determined the LUNA was correct, and Charles had virtually no blood flow from the arteries leading to the ulcer," Dr. Ikerd said.
"This up-and-coming technology is rapidly proving to b valuable in assessing complicated, challenging, non-healing wounds, especially in people with diabetes," Dr. Ikerd said. "I think we're just scratching the surface with what this technology can do."
The arteries in Charles' foot weren't opening—even with the use of advanced techniques. So, Dr. Ikerd recommended 40 treatments of hyperbaric oxygen therapy at Riverview Health Wound Care. This type of therapy works by surrounding the person with 100 percent oxygen at higher-than-normal atmospheric pressure. This increases the amount of oxygen in the blood, allowing red blood cells to pass more easily through the plasma to help heal a wound from the inside out. The chamber consists of a bed that is encased in a clear cylinder.
"My sessions lasted 90 minutes each and weren't painful at all," Charles remembers. "There's even a TV in there, which was nice."
After his 40 treatments, Charles' toe was dramatically better, which allowed him to undergo surgery to remove damaged bone in his foot.
"Without the LUNA technology, Charles probably wouldn't have had any hyperbaric treatments. If he had gone into surgery without any treatments, the outcome would have been less favorable. He may have even lost his toe," Dr. Ikerd noted.
Charles credits Dr. Ikerd and Riverview Health physicians and nurses with saving his toe.
"Dr. Ikerd is very knowledgeable, and we became friends," Charles said. "The care I received at Riverview Health was excellent."