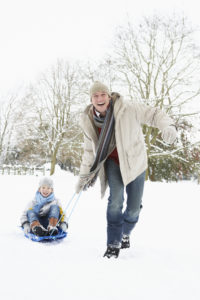 By Ryan Lawson, exercise specialist
Staying active during the busy holiday season can be a challenge to say the least. With that being said, it's possible and very beneficial to stay active throughout the day. Here are some tips:
Plan in advance. Look for ways to stay active when you travel, either by finding a gym nearby or visiting places and participating in activities where you have to be active. If you're traveling to warmer climates, use that as an opportunity to go for a walk or hike.
Participate in a holiday-themed run. Sign up for a race, that way you're committed and have a specific goal.
Make time. Make sure you carve out time in your schedule to exercise. Every little bit helps. It's often best to exercise in the morning when you're fresh and before unexpected events come up and the day gets away from you.
Play in the snow. Being outdoors in the snow is a creative, fun and different way to stay active during the winter.
Don't be too hard on yourself. It's important to realize that things come up. Occasionally, you just aren't going to be able to get your workout in. Don't beat yourself up, because it's okay to miss here and there. The important part is to avoid using it as a repeated excuse because the next thing you know, you've missed out on a week of exercise.
Reward yourself for a job well done. Set a goal, and if you accomplish it, reward yourself accordingly.