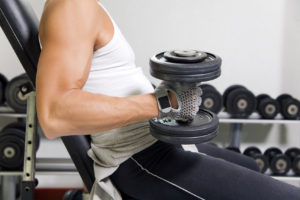 By Ryan Lawson, exercise specialist

It seems to happen a lot this time of year—the winter season has an effect on your physical and mental outlook. Luckily, exercise is a great solution to those pesky winter blues. While it's not always easy to stay as active as we want during the winter months, with a little creativity there's no reason you can't maintain your health during this time. It's important to think positively and work on developing a fitter, healthier version of yourself.
As with anything related to fitness, remember to keep your eye on the goal. We all struggle to stay motivated. During this time, remember to focus on how you felt when you were exercising regularly. It should also be noted that the more fit you are, the less likely you are to get sick. Keeping yourself active and moving as well as putting the right foods in your body will help you keep your energy up during the winter season.
The colder weather is a great opportunity to try something new to mix up your exercise routine. For example, you can try a winter sport that involves the whole family. Examples of family winter activities include ice skating, skiing and snowboarding.
If you're going to exercise outside, make sure you dress in sweat-resistant layers to be prepared for winter's worst. Remember to slowly acclimate yourself to the outdoors because cold air can trigger chest pain and cause trouble breathing. Above all, get out there and have fun!