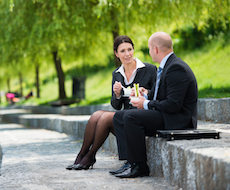 By Katie Boscia, RD, IBCLC, CDE
How many times have you decided to eat lunch at your desk in order to get more work done? Most people at one time or another have decided to eat lunch and continue working at their desks. But studies show that eating at your desk can be bad for your health, and it's actually not helping you meet your deadlines.
When you multitask, it makes it harder to focus. So, while you may be finishing a lot of work, you're not paying attention to how much you're eating. Similar to eating and watching TV, eating while working on your computer may cause you to ingest more calories than you intend.
Leaving your desk can help make you more productive. Most people think working through lunch will help them accomplish more, but studies have shown that taking a break for at least 15 minutes can help you be more productive and creative for the rest of the day.
You sit all day long, and if you don't take a lunch break, you'll continue to sit. During your lunch break, you should think about taking a walk for some exercise. Walking is beneficial for not only your body, but your mind as well.
Your desk is dirty. Studies have shown that your computer mouse and keyboard can contain 800 or more germs per square inch. Leave your desk and eat somewhere that's cleaned regularly.
You're alone when you eat at your desk. In the age of email and text messages, people don't have as many face-to-face conversations as they once did. By taking a lunch break, you can catch up with friends, bond with coworkers and even build your network.
Leaving your desk to eat lunch can help with your mood, state of mind and productivity. Don't deny yourself the chance to recharge your batteries to full capacity. Give yourself the lunch break you deserve.