Laurie Coppess shouldn't be alive, she says. After battling breast cancer and recovering from a stroke more than a decade ago, she thought her health problems were behind her. But in early August last year, she was alone at a friend's house when she started feeling symptoms of what she thought might be a heat stroke.
Laurie called her mom and dad, who were just a few minutes away, to say she wasn't feeling well. When they arrived, they found Laurie collapsed on the floor and called 9-1-1.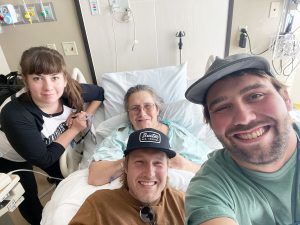 Laurie's eyes were wide open and she was turning blue. That's when, so she was told, she took her "last death rattle" of a breath.
Laurie's dad quickly started performing CPR while on the line with the 9-1-1 operator. Then Laurie's friend, Chris Beaver, arrived and took over chest compressions.
"My parents and Chris said I was dead," Laurie said. "I was lying there cool to the touch."
Chris continued with chest compressions as Noblesville Fire Department EMS personnel arrived and took over. The EMS team quickly hooked Laurie up to a machine to do automatic chest compressions, and they shocked her in an effort to restore rhythm to her heart. Nothing.
Another shock. And then another. Finally—Laurie woke up and started screaming due to the pain from all the chest compressions. Then, she was rushed to the Riverview Health emergency room in Noblesville.
"I think I was in such bad shape that I mentally didn't know what was going on, and I was in so much pain," Laurie recalls.
Laurie was so combative she had to be sedated, intubated and connected to a breathing machine to protect her airway. She was then rushed into the cardiovascular catheterization lab where she was cared for by J. Mario Pyles, MD, interventional cardiologist and medical director of cardiovascular services at Riverview Health.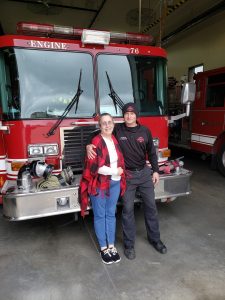 "The EKG showed that she was having a massive heart attack," Dr. Pyles said. "We quickly performed a cardiac catheterization and found that the artery on the back part of her heart was 100 percent blocked."
After several attempts with different wires, Dr. Pyles and his team were finally able to meticulously cross the stubborn blockage with a very small flexible wire and balloon to reestablish blood flow.
"We then inflated two large drug-releasing stents to keep the artery open, and her heart began to improve immediately," Dr. Pyles said.
But it wasn't over for Laurie. She had been experiencing low blood pressure and was on medication to improve it. As the blood flow in her vessels returned, her heart started producing an abnormal rhythm, and she needed to be shocked once again. After one shock, normal heart rhythm was restored, and Laurie was transferred to the ICU.
"I'm told my first few days in the ICU were rough," Laurie said. "I wasn't all there—I think from the lack of oxygen from when my heart stopped, and I was going through withdrawal from nicotine and caffeine. I wasn't in my right mind, and I was pulling out all my tubes."
A lack of blood flow can significantly decrease brain function, Dr. Pyles said.
"Once the heart stops pumping, the brain starts to become damaged, and just like the heart—you can't regenerate parts of the brain," Dr. Pyles said. "Not only is time muscle, time is brain. That's why it's so important to call 9-1-1 rather than drive yourself in if you think you're having a heart attack."
While in the ICU, Laurie's three children came to visit her from California.
"The only thing I remember at that point was seeing rays of colors streaming from my family into me," Laurie said. "It was like the room was full of swirling light that was going straight into my heart."
She was then moved to a recovery floor as she continued to improve, but there was someone she was missing.
"The staff at Riverview Health were compassionate, and you could tell they really cared," Laurie said. "One day I was able to go outside to briefly see my dog, who was brought by. I hadn't seen him in a couple weeks and was really missing him."
Since being released back home, Laurie has made several lifestyle improvements, such as refraining from smoking and drinking caffeine, eating healthier and losing weight. She also exercises at the Riverview Health cardiopulmonary rehab gym in Noblesville multiple times a week.
"The Noblesville EMS crew came from the same fire station where I've volunteered as an election worker for years," Laurie recalled. "I had probably seen the ones who saved my life and didn't even know it."
Laurie is grateful for another shot at life and is committed to continuing to make changes.
"I nearly died and came back to life," Laurie said. "It makes you wonder why you're here, and I sure do feel blessed."