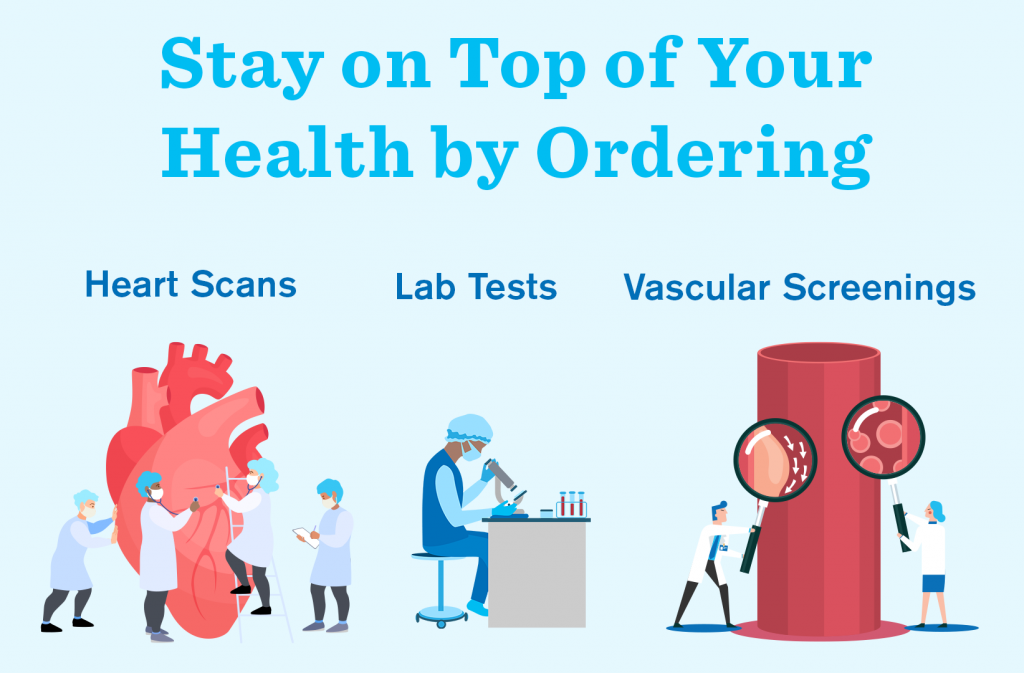 As the county-owned hospital, we're invested in keeping our community healthy, and it's our mission to improve and preserve the health and well-being of those we serve. That's why we offer a variety of cardiovascular health screenings and laboratory blood tests that you can purchase without a doctor's order.
---
Direct Access Laboratory Testing
With our online selection of tests, you can easily browse and purchase lab draws that are designed to evaluate your current health status. Blood draws are performed on a walk-in basis during normal business hours at our outpatient lab in our Noblesville and Westfield hospitals. Payment is due at the time of registration and we do not bill insurances.
Some of our labs are:
$40 Athletic Performance Profile
$30 Blood Typing
$80 Celiac Disease
$20 Diabetic Profile
$80 Food Allergy Panel
$60 Heart Health Profile
$20 Kidney Function
$20 Liver Function
$140 Men's Health Profile
$80 Nutrition Profile
$30 Prostate Profile
$190 Respiratory Allergen Profile
$40 Thyroid Profile
$50 Wellness Profile
$140 Women's Health Profile
To view all of our available lab profiles, learn what tests are included and make a purchase, visit riverview.org/labs
---
Cardiovascular Screenings
Heart disease is the leading cause of death in men and women, according to the Centers for Disease Control and Prevention. Knowing your vascular health and risk for heart disease and heart attacks can help ensure you live a longer, healthier life. Riverview Health Heart & Vascular offers preventive screenings that you can schedule or prequalify for without a doctor's order. Take care of your cardiovascular health through one of the following tests and be sure to share your results with your physician.
$49 CT Heart Scan
This screening is performed using a CT scanner to determine the amount of hardened plaque inside your coronary arteries. Plaque build-up inside your coronary arteries can lead to a heart attack if the flow of oxygen-rich blood to your heart is reduced or blocked.
To be eligible, men must be older than 35, and women must be older than 40. Patients must have a primary care physician to whom the heart scan results can be sent. This test is not recommended for patients with stents or previous heart surgery. We do not bill medical insurances for this screening, and payment is due at the time of scheduling.
$79 Vascular Screening Package
With this package, you can check your risk for stroke, abdominal aortic aneurysm and blockages in your legs. The package includes these three noninvasive screenings:
Carotid Artery Screening
Understand your stroke risk with an ultrasound screening that detects narrowing and blockages of the carotid arteries, the main arteries in the neck that supply blood to the brain.
Abdominal Aortic Aneurysm Screening
Discover if you have signs of an abdominal aortic aneurysm—a bulge or weakness in the aorta, the major blood vessel that extends from the heart into the abdomen—through this noninvasive ultrasound.
Ankle Brachial Index Test
We'll use ultrasound to check for blockages or plaque buildup in your legs that may be signs of peripheral artery disease or cardiovascular disease. If you have leg pain when walking, consider getting this simple screening to check the health of your arteries, as this could be an indication of blockage.
Patients must be at least 30 years old. We do not bill insurance for this package, and payment is due at the time of scheduling.
To purchase and schedule a heart scan or vascular screening package, learn more >>.