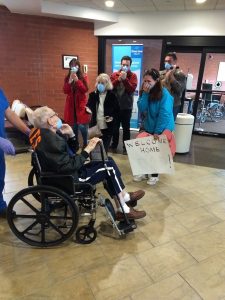 The Riverview Health emergency room lobby erupted into applause as 91-year-old Gerald Hyndman appeared. His acute rehab team rolled his wheelchair down the long hallway, clapping and smiling behind their surgical masks. At the end of the hallway, Gerald's family waited to greet him. When they said their goodbyes and brought him to the hospital twenty days prior, they feared the worst. But Gerald has never been someone to give up without a fight, and he definitely wasn't going to let COVID-19 beat him.
Gerald is described by his family as good-natured and a leader—characteristics that served him well during his extensive military career. He graduated from the Naval Academy in 1952 and was commissioned as a Second Lieutenant in the United States Marine Corps. He did two tours of duty in Vietnam as a platoon leader, and additional tours in Korea and Lebanon. Gerald also ran the amphibious warfare study group for the Marines. His expertise earned him a spot on the CBS evening news with Dan Rather, where he served as an amphibious warfare expert during the Falkland Island crisis in 1982. Prior to retiring as a Colonel in 1978, Gerald worked in the training division at the Navy Annex near the Pentagon.
Gerald hit the ground running when he entered the civilian world as well. He worked for Northrop Services as a program manager for the Marine Corps and went on to earn two master's degrees in personnel management and management information systems.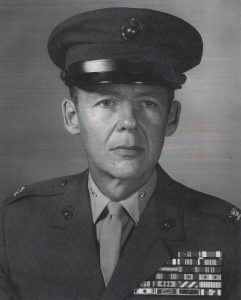 Never one to be idle, Gerald kept busy spending time with his family, volunteering at his church and exercising regularly once he retired. Little did he know, his strength and active lifestyle would play a role in his ability to beat COVID-19 in his 90s.
On Sunday, March 15, 2020, Gerald developed a stuffy nose and minor cold symptoms. As the week went on his symptoms worsened and his family became worried.
"Our family doctor, Dr. William Wunder, and his nurse, Janet Durr, were incredibly helpful throughout the week as Dad's health began to decline," Gerald's daughter, Grace Sell, recalled. "They were in touch daily as we tried to determine what was wrong and how best to help him as the information regarding COVID-19 was changing daily. They helped us walk the fine line between getting Dad treatment and exposing him unnecessarily to danger."
By Friday, Gerald was running a fever and coughing. His family was advised by Dr. Wunder that if he began to experience shortness of breath—a symptom linked to COVID-19—to bring him to the emergency room. By Saturday, March 21, Gerald was having difficulty breathing and was brought to Riverview Health.
When Gerald and his family arrived at the emergency room they were met by nurses in protective gear and also given masks to wear themselves.
"Behind their masks and shields, the staff that met us had warm smiles," Grace said. "When one nurse saw I was teary, she took a moment to offer comfort and reassurance. Despite the medical gear and strangeness of the situation, the Riverview Health staff were welcoming and compassionate."
After being admitted to the hospital and receiving a positive COVID-19 diagnosis, Gerald's condition slowly worsened. He was then moved to the intensive care unit (ICU), something that was difficult for his worried family.
"The awfulness of the virus is the way it keeps families from their suffering loved ones," Grace said. "The wonderful people of Riverview Health stepped into this breach. When Dad was in the ICU, one of the nurses, Cindy Miller-Holliday, comforted me by phone as I cried and thought I was saying goodbye to my father. She promised to care for him like he was her own dad."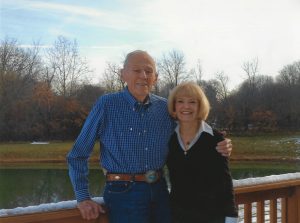 To everyone's shock and delight, Gerald began to improve, and he was transferred out of the ICU to a regular patient room, and then to acute rehab to begin the process of building his stamina and strength back up. Riverview Health is home to the only acute rehab facility in Hamilton County.
After 10 days of hard work with his therapists, Gerald began to get stronger.
"Gerald is an inspiration to me and the rehab team," said Dr. Ron Miller, medical director of the acute rehab unit. "Even at 91, he was not going to let this virus beat him. He has tremendous resolve and has probably never quit anything in his life. He should have a full recovery, which is amazing given the effect of the virus on most elderly patients."
Gerald beat all odds. After 20 days in the hospital and testing negative for COVID-19, he was discharged from Riverview Health on Good Friday and went home to celebrate Easter with his family.
"The people at Riverview Health—doctors and staff—were outstanding and worked endlessly to help me. I owe them all a great deal," Gerald said.
Grace added, "Every day we have with Dad now feels like a gift courtesy of Riverview Health."