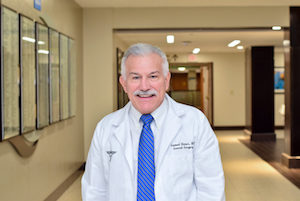 Some physicians go where their expertise is needed. Others focus on becoming an expert in the needs of the community where they practice. Samuel Heiser MD, has been doing the latter during the past 27 years he has practiced medicine at Riverview Health. A general surgeon with a special interest in breast cancer patients, Dr. Heiser claims it wasn't just one moment in his life, but several, that led him to his patients at Riverview Health.
Dr. Heiser was a student at Wabash College when he first considered attending medical school. After earning his undergraduate degree in biology, however, he opted to study psychology at Vanderbilt University. Dr. Heiser practiced in the field for two years before deciding he was better suited for a career where his efforts could be quickly measured. He set out to become a paramedic, but his desire for a career with more independence eventually steered him toward Indiana University School of Medicine.
Dr. Heiser began medical school with intentions of becoming a primary care practitioner. Along the way, he participated in a general surgery clinical rotation.
"It was clear within two weeks that surgery was my home," Dr. Heiser said. "I found that I got along best with general surgeons and appreciated the fact that my efforts were usually rewarded in the short term as opposed to long term."
At the end of his residency, Dr. Heiser met Dr. Paul Waitt, a veteran general surgeon at Riverview Health who was in search of a young doctor to fill his position when he retired. Dr. Heiser was fortunate enough to work alongside Dr. Waitt for three years before his retirement.
"Dr. Waitt provided me with a great deal of mentoring, for which I will be forever grateful," Dr. Heiser recalled. "I am a better doctor and surgeon because of him."
Dr. Heiser is known for his extensive experience in treating breast cancer patients, but that was not his original plan when he started working at Riverview Health almost 30 years ago. Dr. Heiser believes he naturally gravitated toward the subspecialty of breast cancer because not only did he see the need for it in Hamilton County, he also wanted to provide breast cancer patients with the highest level of care possible and be close to home. At the time of Dr. Heiser's initial training, breast cancer fellowships didn't exist, therefore, he took it upon himself to faithfully read and attend conferences to gain expertise in the field.
"There is no area of surgery that is changing more rapidly than the science of breast cancer prevention, detection and treatment," Dr. Heiser said. "I enjoy the challenge of providing each patient with a treatment plan that honors the uniqueness of her situation and her personal priorities."
Helping each patient through what can be an overwhelming and scary process provides Dr. Heiser and his team with great gratification.
"Everyone cares, and everyone wants to do good work," Dr. Heiser said. "It's 5:30, you're hungry and you want to go home, but you know how scared that woman is and how important it is to say, 'come on in—let's talk.'"
Dr. Heiser's passion for his patients and his work is clearly visible. He believes this passion is the driving force behind his aspiration to be the best physician he can be. His dedication to others, however, is not limited to his patients. Dr. Heiser expressed how he has become increasingly appreciative of his family and faith in recent years.
"Over the last few years, I have come to understand the importance of my relationship with my boss upstairs, as well as my wife, children and grandchildren," said Dr. Heiser. "I still love surgery, but I have found and continue to try to strive for a new balance in life."