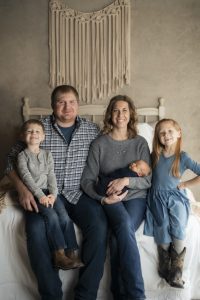 The images from Kindsey and Lynn Niehues' recent family photoshoot show all smiles and a loving family. It all looks effortless. About nine months ago, their newest addition, Justin, rounded out their family by making a big brother and sister out of 3-year-old Derek and 6-year-old Bridgette. But over the course of one year, the Niehueses experienced one of the happiest days of their lives as well as their toughest. Almost exactly one year to the day before Justin came into the world, their daughter, Haley, was born without a heartbeat at 27 weeks.
"It was a pretty normal pregnancy with Haley," Kindsey recalled. "I felt a little morning sickness, which I had not had with my other pregnancies. But I chalked it up to being pregnant for the first time after I turned 30."
Despite all the normal check-ups and ultrasounds, Kindsey had a gut feeling that something wasn't right one Sunday afternoon when she didn't feel the normal movement of her baby.
"I had been up doing a lot and noticed that I hadn't really felt anything," Kindsey said. "So, I did all the tricks I could think of. I drank a bunch of orange juice, laid down, shined a light on my belly, but nothing seemed to be working."
A little panic began to set in that night as Kindsey left a voice message for
Dr. Joseph Geyer at Riverview Health Physicians OB/GYN. Dr. Geyer was her doctor at the time, before retiring in 2021. Dr. Geyer had her come in the next morning. With the hope of simply overreacting, she waited as they checked for a heartbeat. But silence filled the room.
Kindsey experienced two early miscarriages prior to losing Haley—once before her oldest, Bridgette, and then once again before her second baby, Derek. Although it wasn't always a smooth road to growing their family, nothing could have prepared Kindsey and Lynn for the news that they had lost their baby at 27 weeks.
The next 24 hours were a blur for the Niehueses.
"It was a lot to process," Kindsey said. "I had shut down and was numb. I can't really even recall the specifics."
Haley was born on March 16, 2021, at 1 a.m. Dr. Stephanie Brazus stepped in to deliver Haley for Dr. Geyer, who was unavailable. At the time, Kindsey and Lynn did not know they were having a girl. They waited until the birth to find out the gender of their two previous children, so they planned to do the same with their third. As they were finding out they were having a baby girl, they were also grieving her loss.
"Unfortunately, some stillbirths are unexplained," Dr. Brazus said. "I had Kindsey tested for everything, but there wasn't anything that we could pinpoint as the cause."
Grieving a loss like this was new territory for Kindsey, and she admittedly recalls not being immediately drawn to the idea of a bereavement counselor. It wasn't her natural instinct to open up to someone who she felt did not genuinely care. So, when Dede Flaherty, RN, pregnancy and infant loss coordinator at Riverview Health, first reached out to Kindsey, she was skeptical. But despite Kindsey's initial hesitancy, it didn't take long for Dede to become a regular check-in person. Now when asking about Dede, Kindsey warmly describes her as the most amazing soul.
When Kindsey and Lynn found out they were expecting soon after losing Haley, Dede called to see how they were doing, and she continued to do so every step of the way. This new pregnancy was a blessing, but they still carried all the emotions from their recent loss. After Dr. Geyer had retired, Kindsey turned her care over to Dr. Brazus. At her eight-week ultrasound, they found out she had a subchorionic hematoma.
"A subchorionic hematoma is a common cause for bleeding early in pregnancy, so it's nothing to be alarmed about but rather something you keep a close eye on to make sure it doesn't become a problem," Dr. Brazus said.
Due to her previous stillbirth and the high-risk nature of Kindsey's pregnancy, she had her 20-week ultrasound with a maternal-fetal medicine specialist. Everything looked good, and she was cleared to continue her care with Dr. Brazus who continued to work closely with maternal-fetal medicine specialists.
"I was very comfortable with Dr. Brazus and knew she was competent," Kindsey said. "When we had lost Haley, she went through everything to try to find an answer. She left no stone unturned. I also felt she knew the mental side of our situation, which I really appreciated. I was a seasoned mom, but I was also a seasoned grieving mom."
At 34 weeks, Kindsey started to experience itchy feet, which is the main symptom of cholestasis—a complication that affects the liver. Dr. Brazus had her come into the hospital right away to get bloodwork done to test her liver function. Memories of their experience with Haley were all coming back as they took the same elevator and waited in the same triage room. The ultrasound thankfully showed the baby doing well, but they would have to wait one week for the lab results to come back. Then, at 35 weeks, her blood test results showed a high amount of bile acid, so they decided to do an early induction.
"I like to remind all my patients not to feel as if they are overreacting when it comes to their pregnancy," Dr. Brazus said. "I tell them to call about any worries, and I make a point to be available for them."
It was a Saturday afternoon when Kindsey was admitted to the hospital. With nearly 16 hours of laboring, no food and little progress, the situation wasn't ideal. In addition, the combination of feeling stressed about a pre-term birth and it being near the one-year anniversary of losing Haley had Kindsey full of emotions.
Kindsey's water was broken to get things moving and progress the labor. Within a few hours, she went from being about halfway dilated to fully dilated and ready to push. Then, to everyone's relief, Justin Niehues was born at 3 p.m. on March 6, 2022.
"The silence of having a stillborn was traumatizing, so hearing him cry was the best sound in the world," Kindsey said.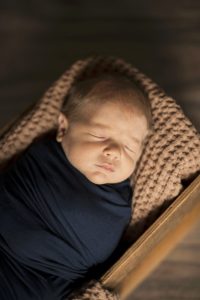 The Niehues weren't out of the woods just yet. Because Justin was born at 35 weeks and considered premature, his lungs were not fully developed, resulting in respiratory issues. He needed to go to the Level II Special Care Nursery at Riverview Health, which Kindsey considers a blessing in disguise.
Once Kindsey was discharged, she was able to stay all 13 nights at the hospital while Justin was in the special care nursery. This allowed her to be physically close to her new baby with 24/7 access to him.
"I was able to stay in my same hospital room and was free to come and go as I pleased," Kindsey said. "It was almost more like a hotel experience. But what I appreciated the most was having the amazing team of nurses who would reassure me when my mind would wander and I would worry throughout the night time when things were quieter. They never acted like I was bothering them with questions, and they were so encouraging."
Finally, after nearly two weeks in the Level II Special Care Nursery and one day after the one-year anniversary of Haley's loss, Justin was healthy enough to leave the hospital.
Justin is now thriving while the Niehues family is settling into a new home. Kindsey recognizes that her story of loss and miscarriage is not unique to just her and Lynn, as other parents have also experienced the same. But rather than being treated as just another family grieving the loss of a baby, Kindsey felt the maternity team at Riverview Health understood that this was their family's own personal journey.
"On the actual day of Haley's birthday, while I was still in the hospital with Justin, one of the nurses, Acacia, brought in a happy birthday sign with Justin's footprints on it," Kindsey said. "It's all the little things that made a difference, including the community feel that I know you wouldn't get in a bigger hospital system."