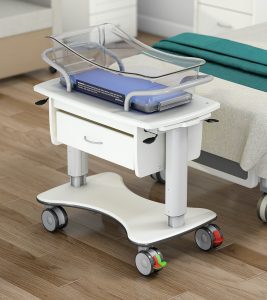 Earlier this year, Riverview Health Auxiliary generously gifted $50,000 to help purchase 16 new bassinets for the Riverview Health maternity unit, which are replaced every 10 years. This gift, along with a grant awarded by the Women of Vision Giving Club and gifts received at the 2022
Women of Vision Luncheon, went toward purchasing the bassinets.
"Over the past five years, we have seen an 11.9 percent increase in births," said Michelle Allen, director of maternal and child services at Riverview Health. "There were 646 infants born at Riverview Health in 2021, so the bassinets get a lot of use. It is important to have up-to-date bassinets to ensure the safety of each baby born at Riverview Health as they travel from mom to the nursery."
After evaluating several different options, Riverview Health selected MedViron Rise Bassinets. Some key new features include adjustable height to fit the stature of each individual mom and for recovering C-section moms, as well as drawers that open on each side for easy access. Riverview Health Auxiliary has been helping raise funds for Riverview Health Foundation
for more than 50 years through the operation of the Riverview Health Gift Shop and other fundraising activities. Past gifts from the Auxiliary have gone to support the Courtney Cox Cole Infusion Center, Help for Healing Fund, the special care nursery in maternity and numerous other projects and programs.
"Riverview Health Foundation is grateful for the ongoing efforts of the members of the Auxiliary who dedicate so much time and energy to help raise funds and support the patients and visitors of Riverview Health," said Megan Wiles, executive director of Riverview Health Foundation.