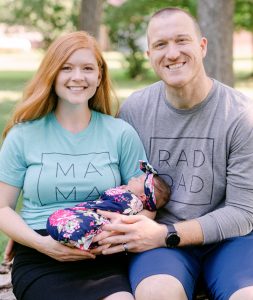 Meet Ashley Seidner, DO, a physician at Riverview Health Physicians OB/GYN. Dr. Seidner enjoys educating, empowering and caring for women while building long-lasting relationships with her patients. Dr. Seidner believes it's her privilege to advocate for women and to provide high-quality care for them through all stages of their lives—from adolescence to maternity, menopause and beyond.
As a new physician at Riverview Health, we decided to ask Dr. Seidner a few questions to get to know her better.
Q. What other career paths did you consider before you decided to become an OB/GYN physician?
A. Strangely, I knew from an early age (around elementary school) that I wanted to be a physician, and I never veered from that course. I'm not certain where this inclination toward medicine came from—I'm the only physician in my family. My paternal grandmother was an oncology nurse, and even though I was never able to meet her, I'd like to think some of that passion came from her.
Q. How did you pick your specialty?
A. During medical school I thought I might want to do pediatrics, family medicine or sports medicine. However, during my OB/GYN rotation as a third-year medical student, I had an epiphany that it was the specialty was for me. I had just finished working a busy 24-hour shift that involved deliveries and an emergent surgery for a ruptured ectopic pregnancy. I had not slept in 26+ hours and still felt invigorated by it all! I love the relationships formed with patients, the mix of office work, deliveries and surgeries. I also love I get to care for women throughout the different stages of their lives.
Q. How is a DO different than an MD?
A. A DO (Doctor of Osteopathy) has similar training to an MD. We both complete four years of undergrad work, four years of medical school and three to five years of residency training (depending on the specialty, with board exams along the way). The difference in training is that a DO spends an additional 300-500 hours in medical school devoted to osteopathic manipulative medicine (OMM), which involves treatments focused on the musculoskeletal system. It is an additional skill that a physician may utilize.
Q. What are your goals as a physician?
A. My goal as a physician is to be an advocate for women, an educator and also a lifelong student. There is always something new to learn in the field of medicine.
Q. What makes you unique as a provider?
A. I come from humble beginnings and I know what it's like to not have much. As a new mom, I know how it feels to be a patient. As a working mom, I understand the plight of balancing it all. I feel all of these factors have added additional dimensions of both compassion for and understanding of my patients.
Q. How have your patients influenced your life?
A. Our patients are often our best teachers and they impact us more than they know. They remind us why we sacrificed and worked hard for many years, and they are why we continue to show up. As an OB/GYN, I experience the highest of highs and the lowest of lows with my patients—and none of that is lost on me.
Q. When you aren't seeing patients, what do you like to do for fun?
A. I highly value the power of nutrition and exercise. I enjoy weightlifting and circuit training and going on walks with my infant daughter, my husband and our two dogs. I cherish spending my free time with my infant daughter and husband. My husband and I also like to complete DIY projects together. I would like to learn more about gardening from him—but let's just say I don't exactly have a green thumb like he does. As a family we are looking forward to traveling again in the future and to the days when we can gather safely with our loved ones. This pandemic has been a great reminder to appreciate time with family and friends and to be thankful for the seemingly small things in life.
Q. What is your favorite TV show?
A. The Office and Parks and Recreation are on a constant rotation when I need a laugh or don't feel like choosing something new to watch.
Q. What are your favorite books?
A. Man's Search for Meaning by Victor Frankl and Tiny Beautiful Things by Cheryl Strayed.
If you would like to schedule an appointment with Dr. Seidner, call 317.770.6085.