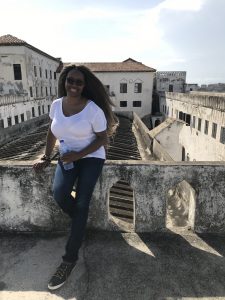 Meet Valencia Montgomery, PsyD. Dr. Montgomery practices at Riverview Health Physicians Neuropsychology and specializes in the treatment of patients with dementia. As a new provider at Riverview Health, we decided to ask Dr. Montgomery a few questions to get to know her better.
Q. What other career paths did you consider before you decided to become a PsyD?
A. This was a second career for me. I spent time working at Fortune 500 companies and I have an accounting and computer science background. Also, if you count that I wanted to be a nuclear physicist as a child, this is my third career path!
Q. What is your favorite part about your job?
A. Patients and their families! I enjoy helping them in ways that fit into their own personal contexts, and the opportunities I have to make a positive difference in their lives.
Q. How have your patients influenced your life?
A. My exposure to patients with dementia has left a lasting impression and reminds me to live in the moment. I hope to make an impact on dementia treatment through research, and by helping dementia patients and their families. Being a physician allows me to have a career working with a population that I enjoy and add to the literature to—hopefully—create change.
Q. What do you like to do for fun?
A. I have two active older puppies, a bernedoodle (Sasha "Swift") and a goldendoodle (Riley Bear). I spend a lot of time playing, cuddling and catering to their every desire. My greatest love—that has been curbed since COVID—is travel. I take at least one trip outside of the country a year and make several road trips and other excursions around the United States. Other than that, I spend a great deal of time baking, making jewelry and more recently, coloring!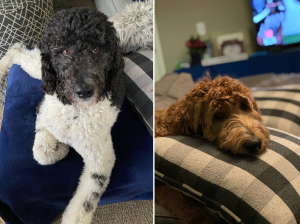 Q. Who is your biggest hero in life?
A. Corny, but true—my mom. As a child I had the pleasure of watching selfless giving in action through my mother. She cared for individuals in our community and led by example. She showed me what it means to love unconditionally.
Q. What is your favorite genre of music?
A. As a former classically trained dancer, I enjoy most genres of music. Right now, though, requests for Alexa to play the "Adele Station" on Pandora can be heard frequently!
Q. What is your favorite movie or TV show?
A. Now that "The Game of Thrones" is off the air, I have a few favorites, one of which is "The Last Kingdom" on Netflix.
Q. What is your favorite book?
A. This is a really difficult question because I am a book fanatic. My favorite book series is "The Nowhere Man" by Gregg Hurwitz.
If you are interested in scheduling an appointment with Dr. Montgomery, call 317.776.7131 or visit riverview.org.