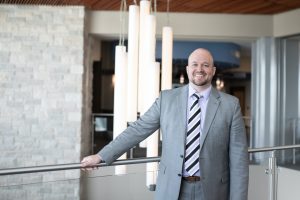 Joshua Tieman, MD, knew plastic surgery was his calling when he began medical school. A creative individual, Dr. Tieman wanted to pursue a surgical specialty that would allow him to incorporate his artistic side. Plastic surgery seemed like the perfect fit, and his decision was solidified after he witnessed his first plastic surgery case in the operating room.
"I did a summer research rotation at the University of Utah, where I worked with the plastic surgeons there. It was the first time I ever scrubbed in on a case or went to the operating room, and I was blown away by the complexity and depth of the reconstructive procedures I saw," Dr. Tieman said. "As a general surgeon, the thrill of fixing a problem in the operating room was tremendous, but it didn't feel as personal as the plastic surgery cases I've done. In plastics, the end goal of a surgery involves a combination of my abilities, as well as the patient's vision and my own. When you can deliver that or better to a patient, there is no greater feeling."
At Riverview Health, Dr. Tieman offers a variety of services, such as elective breast, body and face procedures. Dr. Tieman also specializes in breast reconstruction for cancer patients. Whether a woman has undergone a mastectomy recently or years prior, Dr. Tieman is happy to meet with her to discuss surgical options.
"My training at the University of Utah put me on the cutting edge of breast reconstruction and will allow me to provide wonderful care to the women in this area," Dr. Tieman said. "I am also excited to offer Botox and fillers, and I will be performing the injections myself."
Originally from Arizona, Dr. Tieman said the culture of Riverview Health is what sold him on the job.
"When I interviewed, it was obvious how committed and passionate the staff and administration are about providing quality service to the community. That was extremely attractive to me in an employer," Dr. Tieman said. "As a bonus, it was in a great part of the country I've heard tremendous things about. My wife and I and our two children are thrilled to be in Indiana. It's great to live somewhere that is so green and has water everywhere!"
Outside of the operating room, Dr. Tieman enjoys a variety of hobbies, including hunting, fishing and creating artwork. He also builds custom cars.
"My father and I started building cars together before I could even drive. Over the years, our projects became more and more ambitious and involved. Most of the projects have been what are considered hot rods, or restomods, where you put a modern engine, suspension and interior into a classic car," Dr. Tieman said. "One of the last big projects we did was a '68 Camaro for a businessman in Hong Kong. It had over 500 horsepower and a race chassis. It was an amazing car to build."