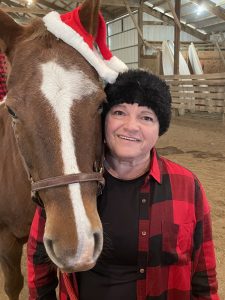 If you've visited the maternity unit at Riverview Health, there is a strong chance you've encountered Janeen Wuwert's smiling face.
Janeen has been a unit secretary at Riverview Health for nine years. She says what she loves most about her job is meeting all the patients, family and friends who come through the door.
Janeen enjoys kayaking in the summer and riding her quarter horse, Leo. But all that came to a halt when she was diagnosed with COVID-19 in September 2021. And little did she know, but COVID-19 was just the beginning of the challenges she would face.
"I was hospitalized for COVID-19 at Riverview Health on Sept. 12, 2021," Janeen said. "While in the ER, I underwent a CT scan, and the doctor told me they saw cancer on the scan. I was too sick at that point to really soak in what he was saying."
Janeen's appointment to address the mass on her kidney was postponed until after she had recovered from COVID-19—but her struggles didn't end there.
"The virus caused a clot that went from my heart to my brain," Janeen recalled. "I suffered from multiple, bilateral strokes while hospitalized."
Janeen also battled the effects of isolation while hospitalized, an unfortunate reality many COVID-19 patients face.
"While I was in the hospital, my nurse Cheryl Chapman, gave me a hug," Janeen said. "It made me cry, because the only human contact I had had during that time was being poked and prodded. The human connection and touch make a big difference when you are struggling."
After 11 days in the hospital, Janeen was discharged, and she underwent a physical therapy evaluation to determine the damage the stroke had caused. She had a 68 percent deficit on her left side. To heal, she began physical therapy twice a week at Riverview Health Rehab & Fitness.
During this time Janeen also received the official diagnosis of kidney cancer. But she kept a positive attitude and balanced cancer treatment and stroke recovery simultaneously.
"Janeen had decreased endurance and shortness of breath with activity," said Kristine Garwood, physical therapy assistant. "Her balance and proprioception were compromised, and she had weakness overall."
For her treatment, Kristine and physical therapist Beth Ludwig, focused on building back Janeen's upper, lower and core body strength, as well as regaining balance.
"Kristine and Beth were always smiling and made therapy fun," Janeen said. "In the past I used to line dance, so one of our exercises was doing grapevines up and down the floor."
After being discharged from physical therapy, Janeen underwent an occupational therapy evaluation as well with Riverview Health occupational therapist, Alan Bunch.
"Janeen had significant weakness in her left arm which affected her ability to perform daily care activities," Alan said. "She didn't have coordination, and she didn't have the skills in her hands to do what she needed to do at work, like typing."
Despite her fears, Janeen was motivated.
"After we started working together, you could see her overcome her anxiety and gain confidence as she realized she was going to recover and be able to get back to work and the hobbies she loves," Alan said.
And Alan went out of his way to make sure therapy was in a caring and enjoyable environment for Janeen—using activities like card games to work on her motor skills.
"He made sure therapy didn't seem like a chore," Janeen recalled. "Alan lost a sister to kidney cancer, so he seemed to have a soft spot for me and was very concerned about my well-being."
By the end of treatment, Janeen was able to use her hand normally again and do things like type, fasten buttons, open containers and complete daily activities without restrictions.
"No one ever completely recovers from a stroke—but Janeen has come as close as you possibly can," Alan said. "The most gratifying thing for me is that she felt so comfortable working together."
While making progress with her stroke recovery, Janeen also beat kidney cancer.
"I wasn't able to do any cancer treatment until November, because I had to heal from the effects of COVID," Janeen said. "I had surgery on Nov. 29, 2021, and the doctors were able to remove all of the tumor without taking any of my kidneys."
After surgery, Janeen's margins were clear, and at her six-month follow-up in May 2022, she will be given the official "all-clear."
After months of recovery, Janeen is thrilled to be back at work and is grateful to her care team for getting her to this point.
"My experience as a patient at Riverview Health was 100 percent awesome. I had good service in the emergency room, as an inpatient and in physical therapy and occupational therapy," Janeen said. "All three of my therapists—Alan, Kristy and Beth—were awesome. And the front office staff at Westfield were extremely nice. First impressions make a difference."
When asked what advice she has for other individuals facing a similar diagnosis, Janeen recommends patience.
"It's hard to not be able to do what you're used to doing and it can be frustrating. But do the exercises they tell you to do. The best thing I did was I chose to be happy. Your attitude makes a difference—it helps with recovery. If you go into treatment with a negative attitude and think you're not going to improve, then, yeah, you won't. If you go in and say you can do it, you're going to get better."