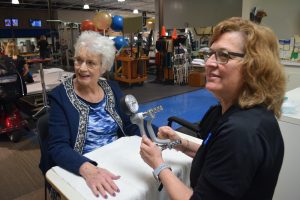 Nov. 6, 2021 started off as a regular day for 76-year-old Carmel resident Pat Garcia. She was playing cards with friends and having a good time.
But then, suddenly, she began to feel warm and felt off.
Confused, Pat got up from the table, but quickly collapsed. Thankfully for Pat, her friends knew what they were witnessing.
"You're having a stroke," Pat's friend, Candace Jones, said.
By the time Pat's friends got her to her vehicle, she was slurring her words and couldn't walk.
When Pat arrived at the emergency room it was confirmed that she had experienced a stroke. But due to the quick reaction time, Pat was able to receive a tPA shot (tissue plasminogen activator) within the recommended three hours, which helped reverse the blockage.
Despite the quick response time, Pat unfortunately still suffered damage from the stroke. Her right side was not functioning, and she had a black spot blocking her line of vision.
"I ended up in acute rehab at Riverview Health in Noblesville," Pat said. "The whole floor was spectacular. I started out on a walker, and by the time I was discharged I was walking with a cane and referred to outpatient therapy."
In outpatient therapy, Pat worked closely with speech language pathologist, Greta Schwarzkopf and occupational therapist, Lori Cain. Together, these two fields of therapy were able to work together to help Pat get her life back.
"Pat came to me with ongoing, high level, cognitive-communication deficits. She also had challenges with attention and concentration, slow processing and visuospatial deficits," Greta recalled. "She had difficulty coming up with words at times, especially when she was tired or overwhelmed and in a noisy or busy environment."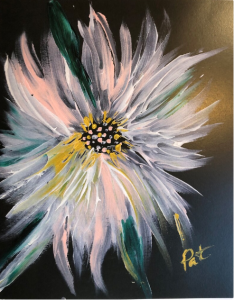 During her therapy with Greta, Pat worked on auditory processing of complex information to complete tasks. She also worked on processing complex written information.
"With her visuospatial deficits, we used compensatory strategies to increase her brain's ability to focus on smaller units of information at time," Greta said. "She worked on various tasks such as logic and reasoning puzzles. She also worked on tasks aimed at accurately identifying and processing visual information, from words to pictures and patterns."
And thanks to Greta's diligence and Pat's continued hard work at home, therapy was eventually able to correct her visual impairments that resulted from the stroke.
"It was an amazing experience to retrain my eye to other pathways," Pat said. "Previously I also couldn't stand bright lights, but that has also been corrected. Greta was amazing."
But Pat was also to credit for her recovery.
"Pat was a model patient," Greta said. "While it can be difficult to impress upon patients the value of completing a home exercise program, it was not that way with Pat.  She asked for homework and did it. She was truly the reason for her recovery. She was motivated to regain and maintain her independence, and she did!"
Pat also worked intensively with Lori Cain to improve her strength and coordination. Pat is an artist, so the deficits in her right arm were affecting her ability to do what she loves—paint. Pat took up the hobby at 74 and has since opened an Etsy store named West Side Artist Studio and has sold to customers all around the world.
"At the end of her treatment, Pat recovered her range of motion and her strength," Lori said. "But the greatest thing she was able to get back to was using her right hand again as her dominant hand. She returned to her love of painting and was even able to go back to her art class in Carmel!"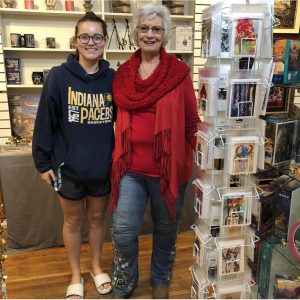 With the help of Lori, Pat also improved her ADL functionality (or Activities of Daily Living). At discharge, Pat had full use of her right hand for eating, grooming, dressing and using a cellphone.
Since being discharged from therapy, Pat likes to stay active to continue her healing. She enjoys chair yoga classes and exercises in the therapeutic, warm-water pool at Riverview Health Rehab & Fitness in Noblesville.
When asked what advice she has for other stroke patients, Pat encouraged them to take treatment seriously.
"You really have to do the rehab. Sometimes it's really hard work, and it's easy to get discouraged, but you can't be discouraged. If you put in the work and the effort—it's life changing. You will make a recovery."