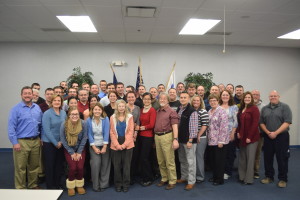 Instilling a sense of community and giving are important to Chuck Goodrich, president of Gaylor Electric, Inc. But not only is it a personal belief, it's something that's echoed by the whole Gaylor staff in Noblesville and across the nation.
With 17 teams in 13 offices from Arizona to North Carolina, Gaylor staff members are big into giving and focusing on philanthropic projects.
"We believe the key to successful business is giving back," Chuck says. Riverview Health Foundation is lucky enough to be on the recipient list—but according to Chuck, it was a natural fit.
"I truly believe Riverview Health is the center of our community," Chuck says. "If you want to know anything about Hamilton County, go talk to hospital volunteers." Chuck urges Gaylor teams to complete one service project each month to give back to local and national organizations.
"Gaylor has a big heart as it serves customers, so giving back works into our vision," Chuck says.
Gaylor staff members have participated in events benefiting junior diabetes, cancer programs and local cleanup work. With 10 out of 17 teams in Indiana, Hamilton County is the focus of about 40 percent of its philanthropy work.
Gifts from Gaylor to Riverview Health Foundation have helped with a cardiology campaign, MRI equipment, women's services and event sponsorships.
Chuck has been working with Riverview Health since 1998, and became involved with Riverview Health Foundation as the finance chair. Chuck also started Riverview Health Foundation Philanthropy Council. The council is a volunteer network of community and business leaders working with Hamilton County residents to promote involvement and philanthropic support for Riverview Health.
Through the years, Chuck has become more involved with Riverview Health Foundation Board, and he is now Board Chairman.
"The work Riverview Health does is incredible, and it really makes it easy for me to want to support it," Chuck says. "But what allows me to do what I do is the people who work for Gaylor. Their passion for service is inspiring."