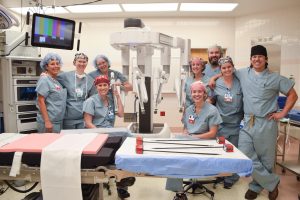 Robotic arms, 3D high-definition views and a surgeon operating from across the OR; while these features may sound futuristic, the addition of a da Vinci surgical system—the da Vinci Xi—at Riverview Health in Noblesville has made this technology a reality to patients.
During a da Vinci robotic surgery, the surgeon operates from a specialized surgical console across the room from the patient. While the doctor remains in control at all times, the system uses a high-definition camera, 3D vision and a magnified view to seamlessly translate his or her movements into precise, real-time movements of the surgical instruments.
Using this technology, the surgeon can perform complex procedures through just a few small incisions. Minimally invasive procedures offer numerous benefits for patients, such as:
Shorter hospital stays
Less pain and blood loss
Minimal scarring
Faster recovery and return to normal activities
Reduced risk of infection or complications
"We continue to see positive outcomes for our da Vinci surgical patients," said George Negrete, MD, Riverview Health general surgeon. "Often they are blown away by how quickly and easily they recover from surgery."
This technology is used to perform gynecological surgeries, including myomectomy and hysterectomy, and to treat endometriosis, heavy uterine bleeding, uterine fibroids and uterine prolapse. It's also used for general surgical procedures to treat gallbladder disease, colorectal disease, hernia repair and a variety of other abdominal conditions.
Riverview Health physicians trained on the da Vinci surgical system include general surgeon George Negrete, MD, and OB/GYN physicians Rachel Davenport, MD, Valerie Gathers, MD, Jennifer Nemunaitis-Keller, MD, and Holly Storm, DO.