Medical issues often strike without warning and at the most inconvenient times. A mysterious rash develops on your baby over the weekend; you cut your hand chopping vegetables for dinner; your spouse wakes up in the middle of the night with a sharp pain in the abdomen.
When faced with these situations, it's common to feel confused about where to go for treatment. Rather than falling into the rabbit hole of medical information found on the internet, leave the decisions to the experts.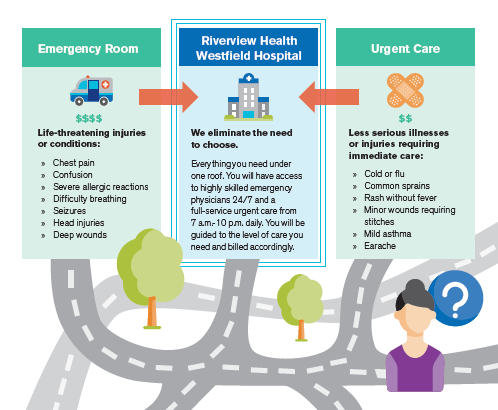 Riverview Health Westfield Hospital is proud to offer the area's first full-service, 24-hour emergency room combined with the most available urgent care hours in Hamilton County—7 a.m. to 10 p.m. daily. Patients who are unsure if they need urgent care or emergency services will now have one convenient access point where they will be guided to the level of care required and billed accordingly. So, no matter the symptoms, we've got you covered.