By Theresa Holland, Manager Maternity Programs and Services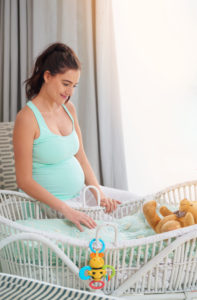 For some women, pregnancy and baby care may seem instinctive, and for others, it might as well be rocket science. If you fall into the latter category, don't fret. There are plenty of resources through the maternity services at Riverview Health to help you feel less overwhelmed. Our experienced, highly qualified staff can be your safety net during this exciting time of your life.
I've been working in maternity care for more than 22 years, and now as the perinatal education and lactation services coordinator at Riverview Health, I help prepare and support moms and dads along their parenthood journey. From even before becoming pregnant to those precious days you spend getting to know your little one, there's a lot to learn.
While most of the baby prep happens after you find out the good news, pregnancy health begins long before your positive pregnancy test. Being aware of your preconception health and getting the proper guidance from a healthcare professional can help you focus on lifestyle changes and health areas that have been shown to increase your chance of having a healthy baby.
Despite the advances in medicine and prenatal care in recent years, birth outcomes, such as low birth weight and early births, are worse in the United States than in many other developed countries, according to Centers for Disease Control and Prevention. Every pregnancy is unique, and while some of these outcomes can't be avoided, preconception health can help make a big difference. For starters, here are six things to do before getting pregnant:
» Talk to your doctor about getting pregnant.
» Take a daily prenatal vitamin.
» Avoid drinking alcohol and stop using any harmful drugs.
» Learn about your family medical history.
» Maintain a healthy weight.
» Get your stress level in-check.
Once you become pregnant, the countdown to welcoming your baby begins. Starting from the first day of your last period, it'll be about 40 weeks, which is how your due date is calculated. It's important to find an obstetrics (OB) physician you're comfortable with and who you feel is right for you, as he or she will be with you for each step leading up to the big day. From your first pregnancy appointment where you'll sit down with a nurse to receive a complete overview of what to expect, to your regular office visits, the team at Riverview Health Physicians OB/GYN will provide you with personalized care that's focused on your unique needs.
Riverview Health also offers the following classes and support groups to help you prepare for the arrival of your new baby and beyond:
» Bump Start—an event designed for expecting and soon-tobe-expecting parents
» Preparation for childbirth classes
» Breastfeeding classes and support group
» Breastfeeding and returning to work class
» Postpartum anxiety and depression support group
To learn more about our maternity classes and support groups, visit riverview.org/maternityclasses.
For any questions about these maternity resources and programs, please email Theresa Holland, BS, BSN, IBCLC, ICCE, at tholland@riverview.org.