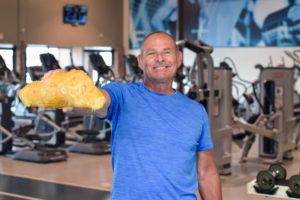 Sam Mishelow was ready to make a change in his life. During the past year, he'd experienced the loss of three close friends to various health issues. He was planning to welcome his first grandchild soon. And as he reached age 65, his weight had slowly crept to 218 pounds. He wasn't happy with his health.
     Between his job as chief strategy officer at Meyer Najem Construction, being a board member at Riverview Health and maintaining other community commitments, Sam's schedule kept him busy, which sometimes meant getting up before 6 a.m. and not getting home again until after 8 p.m. He knew he would have to shift some priorities if he wanted to make a lifestyle change. Riverview Health provides employer wellness services to Meyer Najem, and one day he stumbled upon a flyer with information about the Body Knowledge program featuring the BOD POD. He'd heard of the program and was interested in learning more.
      So he decided to give it a try.
      After completing a BOD POD assessment that calculated his body measurements including weight, fat mass and fat-free (lean) mass, Brittany Nelson, Riverview Health registered dietitian, designed a program for Sam that included weekly one-on-one sessions and BOD POD assessments every other week to track his progress.
     "Our programs are personalized for each individual," Brittany said. "Many of our patients track calories and macronutrients, but Sam didn't want to do that. He focused more on portion size, intuitive eating and making more balanced choices."
     Sam needed a plan with some accountability.
     "I had gone through a dozen weight-loss programs going from 220 pounds to 180. But a year and a half later, I was always right back where I started," Sam said.
     To develop a plan for Sam, Brittany started by getting to know him. "During our regular meetings, we talk about the importance of having a compelling 'why'—which is the internal reason you have that's driving the change you want to see," Brittany said. "Each week, we explore a different topic related to wellness, nutrition or fitness. We set goals and encourage our patients as they move along their journey."
     With Brittany's guidance and support, Sam has changed the way he eats. Instead of mindlessly picking up a cheeseburger and fries for lunch during his busy workday, he grabs a salad and soup. He uses nonfat Greek yogurt on his baked potato instead of sour cream. He skips going out to eat on Friday nights and instead grills chicken with asparagus or broccoli, all while feeling satisfied with his food choices.
     Exercise has become a priority for Sam. While he used his busy schedule as an excuse before, he's not letting himself do that anymore. He and his wife take regular walks on the Monon Trail.
     In addition to looking and feeling better, the BOD POD has shown results as well. Sam lost 25 pounds of fat mass, decreased his body fat percentage by 9 percent and has not lost any muscle.
     "Often as adults age, they will lose muscle when they start a weight-loss program, which isn't healthy," said Brittany. "The BOD POD helps us keep an eye on that."
     His cholesterol level has gone from an elevated 230 to 176, which is now in the healthy range.
     Sam encourages anyone looking to make a change to find the strength within yourself.
     "I told myself 'only you can do anything about it!'" Sam said. "I want to watch my grandchildren grow up. I want to stay mobile and active."
     "I'm still a work in progress, and maybe I always will be," Sam said. "There are a lot of things I want to do still. A lot of places I want to go. I'll only be able to do those things and see those places if I'm able to move easily and I'm healthy."
For more information about the Body Knowledge program at Riverview Health, visit riverview.org/BODPOD or call 317.776.7225.