By Brittany Wonnell, RD
Did you know Hamilton County has been ranked first in overall health outcomes for the past six years, according to countyhealthrankings.org? Whether you live or work close to Hamilton County, there are endless opportunities for you to improve your overall health and wellbeing.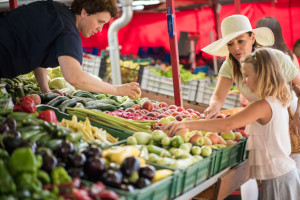 Get out of the house with your family and go for a walk at one of the farmers markets in Noblesville, Carmel or Fishers. A farmers market is a great place to not only get some steps in for the day, but you can also find locally grown, organic produce to support your community and make your meals healthier.
Here's information for the 2016 Summer Farmers Market Season
Hamilton County also offers a variety of resources to help adults and children of all ages find things they enjoy to do. Hamilton County Sports Complex is a place where you can spend family fun time while improving your sports skills. This complex serves preschool-aged children through adults and has a mission to encourage the community to be more active.
The YMCA of Fishers on 126th Street is another place members of the community can go to for affordable exercise and activity guidance. Here, a variety of sports and fitness classes are offered. And of course, there's Riverview Health Rehab & Fitness in Noblesville and Carmel. Check out our fitness classes and find one that's right for you!
When you're thinking about your wellbeing, it's important to look at emotional and behavioral health in addition to physical fitness. Local organizations in Hamilton County offer events throughout the year that can stimulate your mind such as participating in the Carmel Arts and Design District Gallery Walks and the Nickel Plate Arts Festival. Many walk/run races are also offered, including the Noblesville Mini Marathon on May 28. No matter what type of activity you're looking to get involved in, the county is here to support you!
To learn more, check out http://www.visithamiltoncounty.com/ for more information about events that can help to improve your wellbeing and activity level.