By Mindi Matthews, MBA, CHWC
Smartphones, laptops and other devices are heavily used in today's workplace. Well-configured applications can provide 24/7 engagement with employees on their health and wellness issues/goals. For example, reminders to go for a 20-minute walk, to drink 64 ounces of water, take a prescribed medication or schedule a follow-up visit with a healthcare provider can be automated and delivered to employees as needed.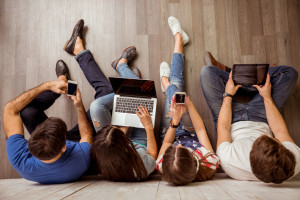 Just as Riverview Health strives to bridge gaps in the care continuum, employers across all industries are searching for ways to "connect the dots" between their workplace offerings and their employees' lives. There can be real benefits for employees who engage and participate in workplace wellness offerings, But what happens when employees leave their workplace? Frequently, those wellness activities fall off the employees' radar and the potential health benefits are lost.
Riverview Health strongly suggests using a third-party to offer wellness applications, so employees don't feel like their protected health information is being shared directly with their employer. Riverview Health offers an online personalized wellness portal that integrates a variety of health and wellness applications into a single source for participants. This approach can benefit both the employee and employer. Contact employerservices@riverview.org for more information.