By Kristin Lamb, CHWC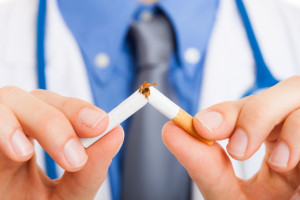 The Indiana State Department of Health reports that employers are greatly impacted by the burden of tobacco use. The average annual healthcare cost associated with tobacco use in Indiana is $2.2 billion. Plus the average annual cost burden due to lost productivity related to smoking in Indiana is $2.6 billion.
Luckily, support services are available to assist individuals and employers:
For Individuals
The Indiana Tobacco Quitline is a free counseling service that helps Indiana smokers quit. Services are available seven days-a-week via phone, web coach or text2quit. Trained quit coaches work to provide solutions tailored to each individual.
Visit Quit Now online for more resources.
For Employers
The Indiana Tobacco Quitline provides the following resources to guide employers toward a tobacco-free workplace:
Costs of employee tobacco use
Cessation benefits
Go smoke-free
Become a preferred employer
Visit Indiana Tobacco Quitline online for more information and be sure to download the Quit Now Employer Toolkit.
TIP: As an employer it's imperative to highlight the tobacco cessation benefits currently available in your health plan. This will remove the financial obstacle when an employee is ready to quit and wants to use stop-smoking aids.
Riverview Health provides the following tobacco cessation programs:
Riverview Health Wellness facilitates onsite tobacco cessation classes to support a tobacco-free workplace. Contact wellness@riverview.org or call Mindi Matthews, Director of Health and Wellness at 317.770.4130 to get started.
Freedom From Smoking is a tobacco cessation program offered at the Riverview Health main campus in Noblesville. This free six-week program is designed to help participants stop smoking, with instructors using a systematic approach developed by the American Lung Association. The program is offered free-of-charge through grants from the Indiana Tobacco Prevention and Cessation Program and the Hamilton County Tobacco Coalition. You can register online or by phone at 317.776.7484.