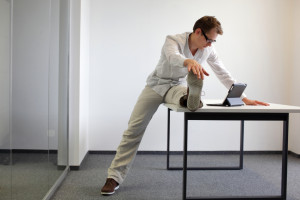 By Kristin Lamb, CHWC, wellness coordinator and coach

Looking for additional support to take your employee wellness program to the next level? Consider using some of the following local, state and national resources (all content via the organizations' respective websites):
The Wellness Council of America (WELCOA) is one of the nation's most respected resources for building high-performing, healthy workplaces. Over its 25-year history, WELCOA has perfected its patented Well Workplace protocol that is the key to developing, delivering and sustaining a healthy corporate culture. Whether you're a workplace wellness practitioner, human resources professional, business leader or consultant/broker, WELCOA's tools, trainings, and resources will help you better promote organizational wellbeing and contain escalating healthcare costs at the same time.
With more than 5,000 corporate members, WELCOA has an impeccable reputation for helping business and health professionals improve employee wellbeing and create healthier organizational cultures. By translating powerful, evidence-based science into strategic business practices, WELCOA offers everything you'll need to build and sustain a results-oriented workplace wellness program.
Visit www.welcoa.org to learn more.
Wellness Council of Indiana (WELCOI) serves as the clearinghouse and resource center on corporate health promotion for Indiana. WELCOI assists members by providing tools to help grow their wellness programs. If you don't currently provide health promotion programs at your worksite, WELCOI can provide you with the information to help you start doing so the correct way. If you already have a wellness program, WELCOI will help tell your story and provide well-deserved recognition as an AchieveWELL organization.
Visit www.wellnessindiana.org to learn more.
Discounts apply when obtaining membership through Riverview Health. Contact Mindi Matthews, Director of Health & Wellness at 317.770.4130 or email wellness@riverview.org
Healthiest Employers is a non-biased resource in population health. Its national reach and access to employer data provide a unique view on corporate health. The purpose of Healthiest Employers is to provide revolutionary insight into managing population health. Healthiest Employers objectively works with all constituents in the wellness industry. The Healthiest Employer awards program recognizes organizations that are committed to creating a healthy workplace. The award uses an online assessment to measure wellness programming in six key categories: leadership commitment, foundational components, strategic planning, communication and marketing, programming and interventions, and reporting and analysis.
Visit http://healthiestemployers.com to learn more.
INShape Indiana motivates, educates and connects Hoosiers (individuals and employers) to valuable resources that help them eat better, move more and avoid tobacco.
Visit www.inshapeindiana.org to learn more.