Polly Trainor, MD
Riverview Health Physicians OB/GYN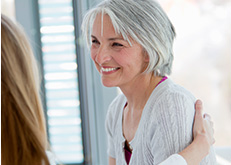 No matter your age, it's always important to establish a dialogue with your gynecologist and get answers to your health questions. But when you're on the cusp of or currently experiencing menopause, you may need to modify those questions for your healthcare provider. Doing so will help you navigate the changes in your body—and help you understand what these changes will mean for you in the future.
The basics
If you're in your 40s, you should still be in the habit of annual gynecological exams. During this exam, you should have the following:
Clinical breast exam
Pelvic exam
Pap test every two or three years, depending on your medical history
During your examination, you can also discuss any of the following topics or questions with your gynecologist:
Your menstruation cycle and last period
Problems such as pain, lumps or irregular bleeding
Results of your recent tests
Any other concerns about your reproductive and sexual health
Changes ahead
If you're in your 40s and 50s, you should begin discussing menopause with your gynecologist at your yearly checkup. The average age at which menopause begins is sometime after age 45, although it can begin as early as your 30s, and some women do not experience it until their mid 50s or later.
Perimenopause or premenopause refers to the years (up to 10) before menopause, during which periods may become irregular. Menopause is defined as 12 consecutive months without a menstrual period, during which time a woman's ovaries will no longer produce estrogen. On average, menopause may affect a woman for six to 13 years.
When you stop getting your period, the risk of pregnancy usually disappears. But menopause affects every woman differently, so it's always best to talk with your healthcare provider. Some common questions that may come up include:
During perimenopause, should I switch to a low-dose birth control pill?
What are the benefits of low-dose birth control pills?
What are the benefits and risks of hormone therapy?
During menopause, do I still have to worry about birth control or pregnancy?
Sex has become painful. What can I do to make it more enjoyable?
What else should I know about my sexual health before, during and after menopause?
Keep in mind that your gynecologist is an excellent source of information about what to expect in the coming years. If you worry about your menopausal symptoms or whether what you're experiencing is normal, discussing these concerns can give you an idea of what to expect, ease your fears and have you feeling better about the next chapter of your life. Get in touch with your OB/GYN physician for more information on menopause.
Sources: MedicinePlus.gov, WomensHealth.gov
---