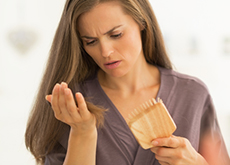 By Dr. Stephanie Brazus
Riverview Health Physicians OB/GYN
Concerned about thinning hair? Talk to your healthcare provider about what's normal and what's not, since losing hair may be telling you something important about your health.
First things first: Losing some hair every day is natural. In fact, losing hair is a sign that your body is growing new hair and replacing the old—and it's normal to lose as many as 100 hairs a day. Solving your hair worries may be as simple as making sure you're not consistently pulling your hair back too tightly or moderating your use of heat styling or harsh hair dye.
That said, there are health conditions that could cause you to lose hair, including:
Anemia
Anemia prevents your body from getting enough oxygen-rich blood, which affects the growth and repair of  the cells that stimulate hair growth.
Changes in birth control or childbirth
Changing to a different kind of hormonal contraceptive or going off birth control pills can cause hormonally-induced hair loss. Changing hormones after childbirth can cause hair loss, too.
Medications
Medications including blood pressure medications and some antidepressants may have hair loss as a side effect.
Stress
Experiencing a traumatic event—not just day-to-day stress—can induce hair loss.
Polycystic ovary syndrome
Hormonal imbalances related to this condition, especially excess testosterone, can cause hair loss and makes it difficult to regrow hair a usual way.
Finally, autoimmune diseases can cause your body to "attack" hair follicles, making hair fall out. These diseases include lupus, thyroid disease, rheumatoid arthritis as well as alopecia areata, a condition that affects as many as 6.8 million Americans.
Bottom line: If hair loss is worrying you, see your healthcare provider who can assess if there's an underlying health condition causing it.
---