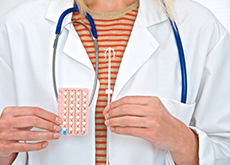 By Dr. Polly Trainor
Riverview Health Physicians OB/GYN
Whether you call it an IUD (Interuterine Device) or IUC (Interuterine Contraception), to make an informed decision about this form of birth control, you need to know what's myth—and what's truth.
How does an IUD work?
The word interuterine means "inside the uterus." So, when you get an IUD, healthcare providers place a tiny plastic device into your uterus to keep you from getting pregnant. Some devices use copper to repel sperm so they don't have a chance to fertilize an egg. Other devices use hormones to thicken the mucus in your cervix to keep sperm from reaching the egg.
You should also know that research shows that IUDs are very effective. In fact, 99 out of 100 women will NOT get pregnant when they use an interuterine contraception. It's also worth pointing out that these devices can remain effective for a long time, from 3 to up to 10 years, depending on the type.
Dispelling the myths
In the past, some IUDs caused problems and were taken off the market. Today's devices are safe and shouldn't be confused with older models because of outdated myths such as:
MYTH: IUDs cause infertility.
TRUTH: Research shows that today's IUDs do NOT cause the spread of sexually transmitted infections that may lead to infertility.
MYTH: IUDs are only for women who've had children.
TRUTH: Research shows IUDs are safe for women who've had children and those who have not.
MYTH: You can't reverse an IUD.
TRUTH: If you decide you want to become pregnant, your fertility returns to normal soon after the IUD is removed.
As with all contraception, the best way to know your best choice is by having an open
discussion with your healthcare provider who can make a recommendation based on your lifestyle and health history.
---