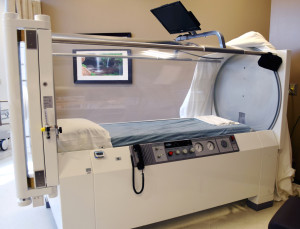 Riverview Health Wound Care is leading the charge when it comes to wound care—becoming the first program in Hamilton County to offer hyperbaric oxygen therapy (HBOT). More importantly, it recently became the first program in Indiana to be accredited by the Undersea & Hyperbaric Medical Society (UHMS), an established source for proven clinical methods to treat non-healing wounds.
If you aren't familiar with HBOT, the explanation of using pure oxygen to heal wounds faster may sound gimmicky. And you may be even more skeptical if you've seen the glass chamber used for the treatments that looks like it could be from a sci-fi movie. That said, if you have a non-healing, chronic wound or ulcer, HBOT—a treatment approved by the UHMS—could be the breath of fresh air you've been seeking.
What is HBOT?
During HBOT, a person breathes 100 percent oxygen at atmospheric pressures greater than sea level while lying in a special chamber that supports the entire body. There are several indications for HBOT, including:
Acute peripheral arterial insufficiency
Acute traumatic peripheral ischemia
Atherosclerosis of native arteries with an ulcer
Compromised skin grafts
Delayed effects of radiation
Gas gangrene
Non-healing wounds as a result of diabetes
Osteomyelitis
Progressive necrotizing infections
Soft tissue radionecrosis
How does it work?
HBOT increases the amount of oxygen in the blood, allowing red blood cells to pass more easily through the plasma to help heal a wound from the inside out. This treatment option greatly increases the rate of healing tissue and salvages limbs that otherwise may have been lost. The overall goal of HBOT is to speed up the healing process of your wound or ulcer to ultimately improve your quality of life.
What are the treatments like?
You enter the chamber while comfortably lying down on a cot. Once you're inside and the pressure reaches the desired level, you just sit back and relax with the ability to move around and turn freely. The increased pressure does not cause any pain, but you'll feel pressure in your ears, similar to what you experience on an airplane. This sensation of fullness should dissipate as the treatment session goes on.
The average HBOT treatment is between 95 and 125 minutes, five days a week. You can use this time to take a quick nap, enjoy some quiet time or even watch a movie on the TV screen that's connected to the chamber.
You're never left alone during the treatment. The chambers are pneumatic and pressurized by oxygen, so they don't require electricity to operate. If a power outage were to occur, the chamber will still be able to open. The chambers are equipped with an intercom system, which allows you to communicate with our staff during treatment.
What can I expect from my treatment plan?
The specialized staff and physicians at Riverview Health Wound Care will collaborate with your primary care physician throughout the course of your treatments and track your progress. As part of our commitment to providing high-quality, personalized care, we'll re-evaluate your progress sometime between 15 to 20 treatments. At this time, our Wound Care team will assess your wound or ulcer and decide if you should continue with your current treatment plan.