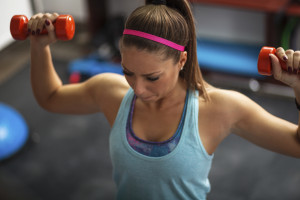 Joining a gym is typically the first thing that comes to mind when people decide to improve their wellness. For many women, finding the time to even exercise at all can be a challenge in itself. In addition, the thought of joining a gym and picking up a new workout routine can feel intimidating. So, just joining a gym is a great first step. Second, it's important for all women to take control of their health by learning about healthy choices and making time for regular physical activity.
Here are five reasons why women should make time for regular exercise:
Decreases risk for osteoporosis

Doing some resistance/strength training, walking and/or other aerobic exercise, will help make bones and muscles stronger. This will help protect us from falls and keep bone mass strong.

Reduces risk for some diseases and conditions

Exercise can help reduce the risk of heart disease—one of the leading causes of death in women—type 2 diabetes, stroke, osteoporosis and some cancers.

Prevents muscle loss

As we age, it's harder to build and maintain muscle. When our muscles are strong, it helps with metabolism levels, endurance, the completion of everyday activities and lowering risk for falls. An exercise program with resistance/strength training will help build and/or maintain muscle mass.

Reduces depression, stress and anxiety

When you exercise, your body releases chemicals called endorphins. These endorphins interact with the receptors in your brain that reduce your perception of pain. Endorphins also trigger a positive feeling in the body. Exercise can also help calm your nerves, boost your mood, increase mental focus and productivity, and give you more energy as well.

Helps with weight Loss

Burning calories and consuming fewer calories is the ideal combination for weight loss or maintaining your weight.
At Riverview Health Rehab & Fitness, not only will you find high-quality strength and cardiovascular training equipment, you'll also have access to a team of experts who can support you in your fitness goals. Here are just a few ways we do that:
Personal training

You can meet with an exercise specialist for personal training. You can purchase packages or single sessions.

Fit For Life

Fit for Life is an eight-week program where you meet with an exercise specialist once a week. You get eight weeks of gym access and have a 30-minute or one- A Fitness Membership
All gym memberships include two appointments with an exercise specialist to help you get started. Call one of our locations for more information.
Riverview Health Rehab & Fitness in Noblesville
601 Westfield Rd.
Noblesville, IN 46060
317.776.7225
Riverview Health Rehab & Fitness in Carmel
14535 Hazel Dell Pkwy., Building B
Carmel, IN 46033
317.705.4350