By Joy Kain, MD at Noblesville Pediatrics
|
Summer celebrations often include family fun events including picnics, water play and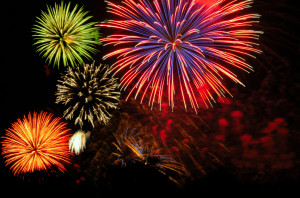 fireworks. Sadly, though, each year thousands of people are injured using consumer fireworks—most of them children and teenagers. In 2012, an estimated 8,700  people were treated in U.S. hospital emergency rooms for firework-related injuries, according to the National Fire Protection Association.
The American Academy of Pediatrics recommends that families do not buy fireworks. Instead, consider enjoying one of the many professional displays available around our community. Other recommendations include providing glow sticks to young children instead of sparklers. Little arms are too short to hold sparklers that heat up to more 1,000 degrees.
For adults setting off fireworks, remember not to wear loose clothing. Point fireworks away from houses and flammable substances, and do not light them near dry grass. Always have a bucket of water or fire extinguisher close to the display area. If a child is burned by fireworks, take him or her to the doctor or an emergency room immediately.
As we enjoy sunny weather and outside activities, remember these firework tips to prevent an unhappy ending to the summer fun!