Ryan Barnes looks more like an adult athlete than a high school senior. At 6 feet 4 inches tall and 230 pounds, the 17-year-old Noblesville High School (NHS) student would be an intimidating opponent on the college basketball court—let alone in a high school gym.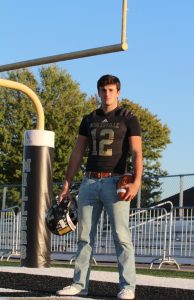 As a two-sport athlete—playing football and basketball—Ryan knows how important it is to stay at the top of his game. So, that made a knee injury during his junior year devastating.
"During the eighth football game of the season, I dove for a tackle and when my knee hit the ground I felt a pop," Ryan recalled.
Despite the injury, Ryan kept playing and was assessed at halftime by Riverview Health athletic trainer Pete Dewar and team physician Dr. Stephen Jacobsen. From there, he was put in a brace and returned to the game. But the brace was just the beginning of his treatment.
The next morning at 7 a.m., Ryan went to see Riverview Health assistant athletic trainer, Kate Query, in the NHS athletic training room. He then learned that he may have torn his right PCL. The PCL, or posterior cruciate ligament, is an important stabilizer of the knee.
"His knee had some laxity and other concerns, so Kate sent him over to see Dr. Jacobsen that same morning at the Riverview Health walk-in clinic in Carmel," Pete said.
Riverview Health Physicians Orthopedics & Sports Medicine Walk-in Clinic offers after-hours availability for patients such as Ryan. No appointment is needed to see the clinicians, who treat injuries that don't require a visit to the emergency room, like sprains, strains, fractures, sudden aches or pains and other injuries resulting from physical activity. As in Ryan's case, the weekend and evening hours are especially convenient for treating injuries from Friday night games.
As the team doctor for NHS athletes, Dr. Stephen Jacobsen—or "Dr. J" to those who work closely with him— says he is in constant contact with Riverview Health athletic trainers at NHS.
"We meet in the athletic training room every week in the fall to examine athletes and come up with treatment plans," Dr. Jacobsen said. "Our athletic trainers even come in to the operating room to watch cases when their athletes undergo surgery."
Riverview Health partners with Noblesville, Hamilton Heights, Sheridan and Westfield Washington schools to provide sports medicine coverage for students during games and practices. It's this partnership that allows athletic trainers like Pete to work on-site with student-athletes up to six days a week, and sometimes twice a day. And, because of their proximity, they are often the first person an athlete will see after being injured.
"We are the frontline when handling student injuries and triaging them," Pete said. "Consistency in care and speed are important, and our end-goal is always to help the athletes heal and get them back in the game as soon as they safely can."
After meeting with Ryan the morning after his Friday night football game injury, Dr. Jacobsen ordered an MRI scan. The scan confirmed his PCL tear, and from there, the sports medicine team was able to come up with a treatment plan.
"Every day after school I would come in and do treatment with Pete for about 30 minutes," Ryan said. "It was nice being able to have treatment right there in the athletic training room and not go anywhere."
His sessions with Pete consisted of a variety of treatments, including ultrasound, electric stimulation, restricted blood flow therapy and exercise rehabilitation.
"When you have long-term rehab like this, you pretty much use every tool in your toolbox," Pete said. "You want to keep the body guessing and throw as much at it as you can and see what's effective."
After intensive therapy, Ryan was back to 100 percent by January and ready for basketball season.
"I wouldn't have been ready to play any games without athletic training," Ryan said.
When asked what advice he had for new students beginning their high school athletic career, Ryan urged students to build a relationship with the coaches and athletic trainers.
"Communication with them is key, and will ultimately make you a better athlete," Ryan said.
Connecting with student-athletes and building a rapport is one of Pete's favorite parts about being an athletic trainer.
"I've learned a lot about Ryan while working with him, and I think his intelligence is what made the biggest difference," Pete said. "He is very aware of what is going on around him, and he understands how everyone needs to work together to achieve the best outcome."