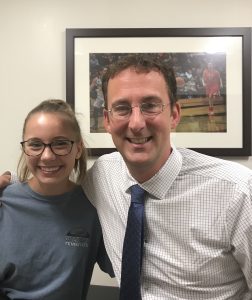 When you first meet 15-year-old Dani Joseph, your first impression would most likely be that she is mild-mannered and sweet. Soft-spoken with a contagious smile, what the teenager doesn't immediately reveal is how tough she is or the level of determination she has for her craft—playing soccer.
Dani is a sophomore at Fishers High School and has been involved in soccer most of her life. She plays wing forward and hopes to continue playing soccer in college one day. Those dreams were recently put in jeopardy, however, when she was injured in January of 2019.
While playing club soccer at Grand Park in Westfield, Dani was tackled on the outside of her left knee after making a pass. She went down and remembers hearing a "pop."
"My coaches had to carry me off the field after the tackle," Dani recalled. "After icing my left knee, I tried to run on it but wasn't able to."
Because Dani has a high tolerance for pain and is always positive, her coaches initially thought her injury was something minor. However, the next day it became clear to Dani that the injury was something more serious than just a sprain or strain.
An MRI revealed that Dani had torn her anterior cruciate ligament (ACL). The ACL is a ligament in the center of the knee that prevents the shin bone (tibia) from sliding too far forward on the thigh bone (femur). It is the most active ligament in athletic maneuvers such as cutting, pivoting and stopping short—all crucial movements for a soccer player.
After receiving the news that her ACL was torn, Dani (with the guidance of her mother, Lauri Joseph) sought a second opinion for treatment.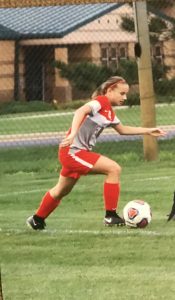 After a recommendation from a friend, Dani saw Dr. Stephen Jacobsen, an orthopedic surgeon and sports medicine physician at Riverview Health. Because of the severity of her injury, Dr. Jacobsen recommended she undergo surgery.
"In order to get Dani back on the field we had to reconstruct the ACL," Dr. Jacobsen said. "To do that we needed to collect a material that was similar to the native ACL. This is called a graft."
During an ACL reconstruction, there are several options for selecting a graft. In Dani's case, Dr. Jacobsen went with her patellar tendon. This tendon runs from the kneecap (patella) to the shin (tibia). During surgery, Dr. Jacobsen removed the central third of the tendon, along with a small block of bone from either end. This graft was then used to replace Dani's old ACL.
To Dani's relief, the procedure was a success.
"Everyone was wonderful with making Dani feel comfortable the day of her operation," Lauri said. "Dr. Jacobsen was so easy to talk to and had a great bedside manner. Before surgery I remember him giving us a big thumbs up that everything was going to be okay."
After months of rehabilitation, Dani was released in August to play soccer without restrictions. In large part, Dr. Jacobsen credits Dani's full recovery to her grit and determination.
"Dani was clearly driven to get back on the field," Dr. Jacobsen said. "She approached her recovery with a positive attitude and the effort you would expect from a professional. If she continues to do what she has done thus far, the sky is the limit for her as an athlete!"