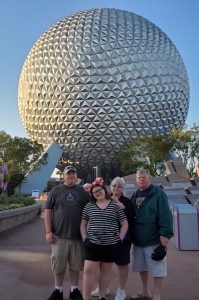 John Cook had tried everything for his knee pain—injections, CBD oil—you name it. Injections offered him some relief, but not much. CBD oil didn't help at all. After five years of dealing with significant arthritis and pain, John had had enough and was ready to look at surgical options.
When a friend told John about cryoneurolysis, a pre-operative procedure performed at Riverview Health to alleviate pain after a knee replacement, John knew that was the route he wanted to take for his own surgery.
Cryoneurolysis consists of using a special instrument to temporarily freeze nerve endings in the knee. This often allows patients to dramatically reduce the amount of pain medications they take after surgery, not only making their post-operative recovery easier, but also decreasing the chance for narcotic dependency.
After doing his research, John made an appointment with Dr. Scott Smith, an orthopedic surgeon and sports medicine physician at Riverview Health. Dr. Smith offers cryoneurolysis to his patients, something John said was non-negotiable for him when picking a physician for his surgery. After hitting it off with Dr. Smith, John's surgery for his left knee was scheduled for January of 2020.
"John had tried nonsurgical treatments for many years—including numerous injections—in order to delay surgery as long as possible. That left his knees in pretty rough shape and was quite debilitating for him," Dr. Smith recalled. "He underwent a total knee arthroplasty and has done great. He has had minimal pain and is getting around very well."
Despite being given a prescription for pain meds, John said his pain was so minimal that he didn't even open the pill bottle. Instead, he has only used Tylenol Extra Strength during his recovery.
"I cannot brag enough about the Riverview Health staff," John said regarding his surgical experience. "The level of communication from my care team was top notch, especially from Dr. Smith and my anesthesiologist, Dr. Erika Radel. After having such a positive experience with my left knee, I am looking forward to having my right knee replaced as well."
When asked what advice he had for other individuals living with knee pain, John urged them not to put surgery off. He also recommended that patients consider doing physical therapy prior to surgery, which can help strengthen muscles and make recovery easier.
With his left knee healing quickly and his pain greatly reduced, John is excited to be active again. This summer he looks forward to traveling and camping with his wife of 48 years, Susan.