Riverview Health anesthesiologist, Michael Louthan, MD, hopped into his truck and shut the door. It had been a busy day at work, and he was ready to relax. He started the truck, left the hospital parking lot and began his route home.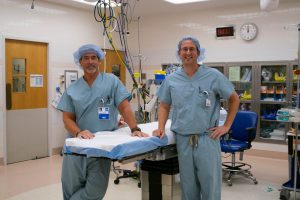 The drive was one he had been making to and from Riverview Health for 21 years. His commute that day was uneventful until he needed to make a left turn. He tried to lift his left arm to turn on his blinker—but he couldn't. Pain shot through his shoulder and his arm felt weak. Frustrated, Dr. Louthan reached over the steering wheel with his right arm to hit the left blinker.
Enough was enough. He was ready to make a change.
"The original injury was from a skiing accident that caused arthritis in my left shoulder," Dr. Louthan said. "As time passed, I watched as the space in my shoulder joint became more and more narrow and my range of motion started to decline."
Dr. Louthan always knew he would need a shoulder replacement. Cortisone injections helped with the pain, but they were becoming necessary multiple times a year now. His bone was also becoming thin. It was time for the inevitable—but who did Dr. Louthan trust with his surgery?
"I worked in the operating room with Dr. Stephen Jacobsen at Riverview Health, and I could see his passion for the shoulder," Dr. Louthan said. "I saw how meticulous he was, and it gave me confidence. I knew long before I replaced my shoulder that Dr. Jacobsen would be the one to do the surgery."
For Dr. Jacobsen, treating his coworker wasn't something that worried him.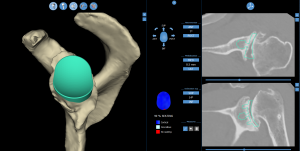 "Of course, you want everything to go well when you replace someone's shoulder. The fact that we are colleagues adds another level of complexity to the situation," Dr. Jacobsen said. "But I've always been able to compartmentalize facets of a situation like this. My approach to his shoulder was the same as with any patient I treat. Once I began working on his shoulder, the fact that he was a friend and coworker was not present in my mind. My focus remained on the task at hand."
Planning for Dr. Louthan's total shoulder replacement surgery was an in-depth process. For each shoulder replacement, Dr. Jacobsen maps out the surgery on his computer. Then, using imaging, he walks through each step of the surgery before he ever operates.
"There was a significant amount of wear on Dr. Louthan's socket. This made it impossible to fit a standard socket component in his shoulder," Dr. Jacobsen said. "I decided to go with an augmented component built up in the back to account for the excessive wear there. I also made a custom guide to help with preparation of the bone.  The guide is very useful in situations where the is extreme wear in the bone, which can be disorienting to look at during surgery."
The total shoulder replacement was a success. After eight weeks of rehab and another week of rest, Dr. Louthan was back to work in the operating room without pain.
"Anesthesiologists rely on their left arm to assist in the placement of the breathing tube used in general anesthesia. I had adapted in a lot of different ways to avoid using my left arm," Dr. Louthan said. "Once I was back to work after surgery, I had to train myself to use my left arm again. Now it is like the injury never happened."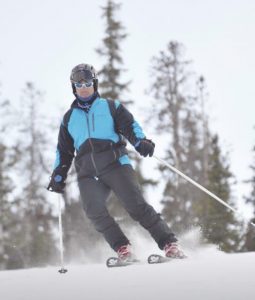 Now healed from surgery, Dr. Louthan is excited to be active again. He is ready to ski, lift weights and work around his home—without any worries.
Going from doctor to patient isn't always easy. But for Dr. Louthan, knowing Dr. Jacobsen was his surgeon put his mind at ease.
"Some surgeons may overlook the individual behind the shoulder and just see another shoulder," Dr. Louthan said. "But for me, I knew it was always MY shoulder Dr. Jacobsen was working on. A surgeon who sees you as a patient and your outcome individually helps build your confidence that you're not just another number. You're a success to them."