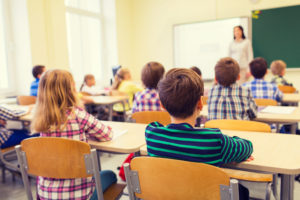 By Kathleen Miller, MD
Pediatrician at Fishers Pediatrics
If you're a parent, it's likely you've witnessed some form of anxiety in your kids. Whether it's separation anxiety when leaving them with a babysitter or being nervous about a big test, worries and fears are a natural part of childhood development. For parents, it's never easy to see your kids in distress, but keep in mind that anxiety is a natural emotion that helps keep them safe and motivated. If the concerns are persistent and excessive—having a negative effect on day-to-day life—your child's behavior may meet criteria for an anxiety disorder.
A few quick facts:
Anxiety is the most common psychiatric disorder with symptoms usually appearing during childhood.
It's estimated that 10-30 percent of people experience anxiety disorder.
Types and signs of anxiety disorders
Generalized anxiety disorder—Excessively worrying about things that can't be stopped or controlled can be a sign of this disorder. This is commonly associated with perfectionism and becomes apparent during school-age years.
Social anxiety disorder—Most common in early adolescence, kids who are very concerned about what others think about them and are shy or withdrawn may suffer from this disorder.
Panic disorder with or without agoraphobia—Panic attacks are a result of this disorder and are often caused by a sense of uncontrollability. This is usually accompanied by the feelings of a racing heartbeat and breathing distress.
Specific phobia—Kids who experience extreme fears to the point of functional impairment may have specific phobia. For example, kids can be so afraid of storms that they cry uncontrollably or hide in a closet or bathroom.
Separation anxiety disorder—When kids are consistently having trouble separating from parents or they worry something bad may happen when separated from their parents, they may have this disorder.
Selective mutism—With this disorder, parents report that their child readily talks at home and/or around select family members or friends, but doesn't speak in school or other settings. This develops before age five and is most common from ages two to four.
Treatment for anxiety disorders
Persistent and excessive anxiety indicates a real concern when it comes to anxiety in children. It's important to not become discouraged if your child is diagnosed with an anxiety disorder. Depending on what's best for you and your child, anxiety disorders can be successfully treated with cognitive behavioral therapy, which provides children with tools to manage and cope with anxiety, and/or medication.
Being mentally healthy is just as important as being physically healthy when it comes to overall wellbeing. If you think your child may be experiencing some form of anxiety disorder, the first step is to have a conversation with his or her pediatrician.
Our team of expert pediatricians is here to support you and your family. To schedule an appointment, call 317.565.0565.