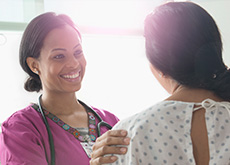 By Charles Harris, MD
Riverview Health Physicians
About 1 in 20 Americans will develop colorectal cancer in his or her lifetime. Although men are at greater risk than women, screening is one of the best ways to make sure that you don't become one of the statistics.
Finding and removing precancerous growths, or polyps, and early stage colorectal cancer is not that difficult with regular screenings like the ones below, which should start at age 50 for men and women at average risk:
Flexible sigmoidoscopy every 5 years
Colonoscopy every 10 years
Double-contrast barium enema every 5 years
CT colonography (virtual colonoscopy) every 5 years
These screening tests — will they hurt?
Simply put, sigmoidsocopies and colonoscopies are procedures that examine your rectum and colon to look for polyps. Before a colonoscopy you receive medication to help you sleep so you will not feel anything. During a sigmoidoscopy you will be awake. This and the barium enema test may be a bit uncomfortable, but should not be painful. A virtual colonoscopy is a painless procedure involving a CT scanner that takes X-ray pictures of the colon and rectum.
How do I prepare?
The day or two before a barium enema, colonoscopy, sigmoidoscopy or virtual colonoscopy you will need to follow a special diet of clear liquids. You will also take laxatives and perhaps an enema before the tests to clear the colon.
And if they find something?
If your doctor finds a polyp, you may need further testing or a follow-up colonoscopy to look for polyps in the rest of the colon. During a colonoscopy, small polyps can be removed and a biopsy will be done on larger polyps, tumors or anything else that's abnormal.
If you have questions about colorectal screening and the option that is best for you, speak with your physician.
Sources: Cancer.org
---