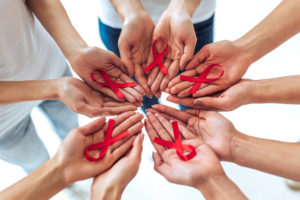 Today is World Cancer Day, making it the perfect opportunity to talk about the potentially life changing resources available for those who have received or are currently receiving treatment for cancer.
Each oncology patient has unique health needs throughout treatment and survivorship. Outpatient therapy is one way to provide relief from long-term side effects caused by cancer.  Physical, occupational and speech therapy have been proven to increase endurance, build strength and reduce pain.
While lymphedema is typically the most commonly known cancer related issue treated with therapy, there are in fact many other challenges that can be addressed. At Riverview Health Outpatient Therapy, we can create a plan of care that reduces the development of many long-term issues such as restricted range of motion, fatigue, fibrosis, lymphedema, deconditioning, balance issues, swallowing challenges, pain and neuropathy.
Are you or someone close to you one of the 15 million cancer survivors in the United States? Even if it's been years after active treatment, we will assist in managing the life-long conditions caused by cancer.  Reach out to your primary care physician or oncologist and request an evaluation be sent to Riverview Health Outpatient Therapy. Once an order from your provider is received, we will be in contact to schedule an evaluation. If you need additional support reaching out to a provider, please contact Susan Beckwith, Clinical Liaison for Riverview Health Outpatient Therapy, at 317.379.3528 for assistance.