Carolyn Dahlager relaxes peacefully in a recliner. Sitting near the warm glow of a fireplace, she stares out a giant window to admire nature and imagine what will soon be a beautiful garden. She spends several hours a week sitting in this spot as she receives magnesium infusion therapy to treat a health condition—something she's done for the past two years and will continue for the foreseeable future. Carolyn enjoys the comfortable, homey environment during her treatments, but she's not at home—she's at the Courtney Cox Cole Infusion Center at Riverview Health.
After much planning and construction, the highly anticipated Courtney Cox Cole Infusion Center at Riverview Health opened for patients in November 2019, and Carolyn was one of the first to experience the new space.
"The new infusion center is remarkable," Carolyn mused. "I don't know what they could have done better."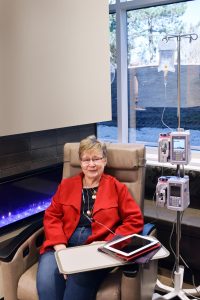 Carolyn and other infusion center patients owe much of their gratitude to Riverview Health Foundation donors, and most notably the Cox, Cole and Peck families for their $500,000 donation. But the influence of these three families goes beyond money, as they largely inspired the design elements—especially Courtney Cox Cole.
After her cancer diagnosis several years ago, Courtney became a patient at the Riverview Health infusion center. While she was happy with the care she received there, she and her family wished they had a more comfortable environment for treatment. Courtney and her family met with leaders at Riverview Health to help develop concepts for a new infusion center. Then, last year, Courtney, along with her parents, Dave and Jackie Cox, and sister and brother-in-law, Monica and Darren Peck, pledged their support to help build a new infusion center.
The Courtney Cox Cole Infusion Center triples the amount of space that was offered in the previous infusion center. The center now offers private rooms, semi-private suites and social treatment areas, ensuring that patients receive care in their preferred manner—whether it be alone or with others.
Sadly, Courtney passed away in September 2019, but her legacy will live on to benefit patients for generations to come. As the project was completed, the Cox, Cole and Peck families and friends enjoyed a sneak peek at the infusion center. "You walk in there and you're like, 'the fireplaces—that's Courtney,'" Monica said. "The natural light, the porch, the social or private treatment areas—Courtney is all over that whole area to me."
The colors and textures within the infusion center are warm and inviting. The large windows and fireplaces offer a soothing ambiance. The heated, massaging recliners allow patients to sit back, relax and even fall asleep.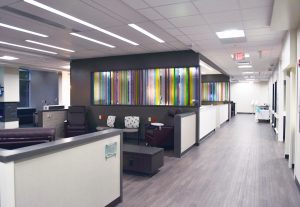 While Carolyn was thrilled with her care, and the staff had already become a "second family" to her during the past two years, the previous infusion center didn't offer a lot of privacy. Since the opening of the new center, she's been enjoying the semi-private suites where she can relax and view the outdoors through her large window.
Each suite has a television, but Carolyn usually prefers to spend her time quietly.
"It offers a peaceful time to be able to close everything off," she said. "You're able to take a nap or just look outside."
Carolyn is also looking forward to the garden that will be constructed outside the windows for patients to enjoy. The garden will feature beautiful landscaping and a sculpture created by local artist Rachel Kavathe, who is working in conjunction with Nickel Plate Arts.
Though infusion therapy is often associated with chemotherapy for patients with cancer, there are many patients, like Carolyn, who receive infusions for other reasons. The infusion center also treats those with conditions such as infections, gastrointestinal disorders, pulmonary conditions such as asthma, and rheumatology conditions like arthritis and psoriasis.
Patients can spend anywhere from 15 minutes to 16 hours receiving an infusion, said Angie Bolinger-Anderson, director of cardiovascular and cancer services at Riverview Health.
"Each patient is going through something different, and we recognize how hard it can be to sit in a hospital receiving treatment for hours at a time," Angie said. "That's a lot of time here, and we want our patients to feel comfortable like they're at home. And thanks to the Courtney Cox Cole Infusion Center, we're now able to provide that atmosphere for our patients."