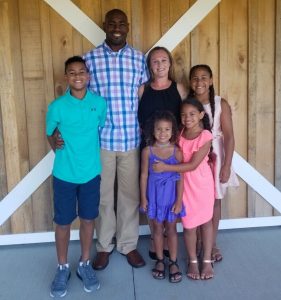 Outgoing. Caring. Dedicated. These are words that are used to describe Annie Walker, a family nurse practitioner at Riverview Health Physicians Westfield Medical. A former emergency room nurse for 16 years, Annie is an experienced caregiver who prides herself on providing personalized care to her patients. To help her patients get to know her better, we decided to ask Annie a few questions.
Q. What is your favorite thing about being a nurse practitioner?
A. My favorite thing about being a nurse practitioner is developing a relationship with my patients. I love getting to know them and learning about their history. I enjoy remembering little things about my patients, which they often appreciate. My job is sometimes like finding a needle in a haystack. I have to be a detective as well as Dr. Phil—being a nurse practitioner requires a caring ear to listen as well as persistency for the patient's best interest. It is all very rewarding.
Q. What should your patients know about your practice philosophy?
A. My philosophy is to treat my patients the way I or my family members would like to be treated. To support them and to encourage them to be their own advocates. To include the patient in their decision making, give them options, educate them and have patience. I love to read research articles and to learn about new scientific studies that could possibly help me treat patients in a better way than before. I would like my patients to feel comfortable enough to talk to me about anything, and to know that my office is a no-judgement zone.
Q. You were an emergency room nurse for many years; what did you enjoy about that and how has that experience helped you as a nurse practitioner?
A. Being an ER nurse for 16+ years has taught me not to take life for granted. I learned not to sweat the small stuff and to pick my battles. I learned that everyone is usually going through something—likely worse than what you are. I learned not to judge a book by its cover. I learned to have thick skin, but also to be sensitive to others during what was probably one of their most vulnerable moments. And I learned to give grace. I have a million stories that I literally couldn't make up. These stories have made me the person, mom, wife, sister, daughter, friend, neighbor and nurse practitioner I am today.
Q. What is a typical day at work like for you?
A. My workday starts at 7 a.m., and I'm typically the first provider in the office. I see patients of all ages and realms of life, from acute to chronic and non-acute patients. I enjoy this because the acute patients get to see a lot of the ER Annie, ha! I do tend to find myself charting at home a lot because I like to give my undivided attention to my patients in the room during the visit. That's just me.
Q. Do you have a favorite memory when a patient truly influenced you?
A. About 10 years ago I was helping take care of an elderly man who was very ill. He and his wife had been married over 70 years, and she was at his bedside constantly and helped with his every need. They both acted like new lovebirds. A coworker asked them what the key to a marriage that long was, and the wife replied, "Marriage isn't 50/50, honey, it's 100/100 every single day. You will have lots of good days and lots of bad days together. Make the good days count." That advice stuck with me, and I try to remind myself of that in my own marriage and in life. The effort you give to make something work is important. It's 100 percent, not 50 percent.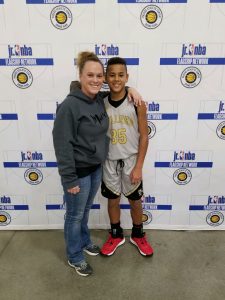 Q. What do you love about Riverview Health?
A. I came from a bigger health system prior to working at Riverview Health. I loved it there, but there is something special about the smaller feel and atmosphere Riverview Health provides. From the CEO, to the doctors, to the nurses, to the cafeteria staff, to the cleaning staff and everyone above and below, we all have a say. Our leaders encourage us to speak up regarding improvements so we can be the best health system, and our voices are heard. We know our leaders' faces, we know their voice and most of them know us by name when they pass us in the hall. That's just not something that happens at bigger health systems. Riverview Health is special and an amazing contribution to our community.
Q. What do you enjoy doing for fun?
A. I love being with my family! I enjoy watching my kids play sports and watching professional sports, especially basketball. As a family, we like going to the pool in the summer, having family dinners and taking vacations when we can. I don't have much downtime, and if I do, I notice I'm not as productive, so I'd rather rip and run with a busy schedule. I love to be outside and active—I'm not a TV watcher at all. I also enjoy music and dancing, although I'm not a good dancer.
Q. You coach for your kids' teams—what sports?
A. I coach my kids in basketball. I've coached my seventh-grade boy for the last six years and my eight-year-old daughter for the last three years.
Q. Were you an athlete in school?
A. I started playing basketball when I was four years old at the Boys and Girls Club, and still love to get out there and take on my son with a little one-on-one. The only issue now is he's taller than I am, so I have to work a lot harder! I also played volleyball and softball.
Q. What is your favorite movie/TV show?
A. My favorite movies are Dirty Dancing, Footloose and Dumb and Dumber. If I watched more TV, I would love to keep up with This Is Us.
Q. Are there any fun facts about you people might not know?
A. I was in a commercial when I was four years old for a sporting goods store in New Mexico. And my biggest accomplishment in life is being a mother of four children—one boy (12) and three girls (10, eight and six).
If you would like to schedule an appointment with Annie, call 317.867.5263 or visit riverview.org.