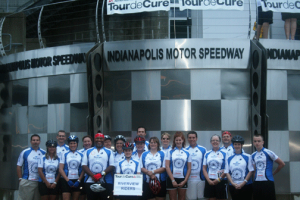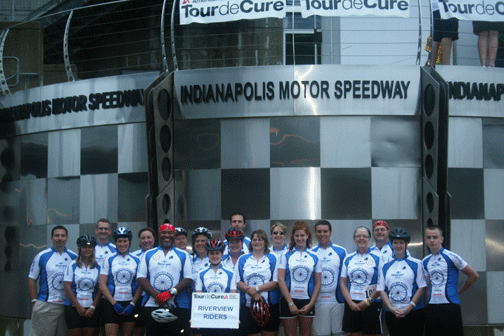 The Riverview Riders are banding together once again to raise funds for diabetes research through their participation in this year's Tour de Cure. The Tour de Cure is a series of fundraising bicycling events held in 43 states nationwide to benefit the American Diabetes Association. The Indiana Tour de Cure will take place at the Indianapolis Motor Speedway on Saturday, June 11, 2011.
The Riverview Riders, Riverview Hospital's bicycling group established in 2007, recently hosted a 2011 Tour de Cure campaign kick-off at Riverview Hospital. Representatives from the American Diabetes Association (ADA) were on hand to answer questions about the Tour de Cure and to encourage support.
The ADA presented the 2010 Riverview Riders team with an award for being one of the top ten teams in Indiana for Tour de Cure in 2010 with a fundraising total of $4,176. Tony Conaway, Riverview Hospital chairperson for this year's Riverview Riders Tour de Cure team, wants to up the ante this year! His goal is to have a team of 50 riders participate in this year's event, with a fundraising goal of $5,000 (or more!).
For more information on Riverview Riders or to contribute to the 2011 Riverview Riders Tour de Cure team to support Diabetes research, e-mail Tony Conaway: tconaway@riverview.org. To learn more about Tour de Cure, visit tour.diabetes.org.