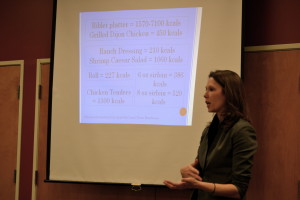 Yes! You can dine out and stay on track!
On March 17, Registered Dietitian Laura Kenny held a nutrition seminar at Riverview Rehab & Fitness in Noblesville focused on staying healthy while dining out. Making healthy choices while dining out can be tough and the calories can add up very quickly. Many restaurant food portions are 3-4 times what a normal serving size should be.
Some of Laura's key points to keep in mind:
Call the restaurant ahead of time or go online to look at the menu and make your choice ahead of time. Locate an item that fits your goals. Commit to choosing this meal once you arrive at the restaurant – hold yourself accountable!
Split meals with a friend, a child, etc.
Have a snack before leaving to go to the restaurant.
If you get a full meal, take home 2/3 of it. Have the waiter box it up right away.
Don't be afraid to ask how items are prepared. You can ask for no oil to be used.
Avoid anything with the words: colossal, smothered, deep fried, and battered. Also, it is best to avoid buffets.
Eat slowly and savor every bite.
For a lighter meal, order an appetizer instead of a main course.
Consider your food choices for the entire day – spread out your calorie allowance.
Avoid: creamy soups, sauces, mayo, bread sides, regular dressings and croutons.
Choose: whole grain breads, broth-based soups, fruits/veggies, salads, olive oil-based dressings, light dressings, nuts, dried fruit.
Choose lean beef, ham, turkey or chicken on whole grain bread.
Limit the amount of alcohol you drink. Alcohol increases appetite and provides very few nutrients – and a lot of calories.
Add tomato, lettuce, and other vegetables to all sandwiches.
When choosing fast food, stay away from the fryer, go grilled, remove the skin from chicken and turkey, hold the mayo or special sauce, choose water as your beverage, do not add salt, and never upgrade the size.
The great news is that starting soon, all restaurants with more than 10 locations will be required to list calorie information on the menu board. This will help consumers make better decisions when it comes to making healthy choices and realizing the amount of calories different food choices contain.
Laura provided the helpful handouts below to event attendees.