By Ryan Lawson, exercise specialist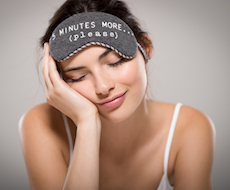 Everything has been going great with your exercise routine: you've been faithfully completing your workouts, you've made an effort in your diet and, in turn, you are feeling more energetic than ever. You've even started to notice that everyday activities are getting easier. In regard to your health and wellness, everything is trending up.
Now that you have established positive, healthy habits, it is important to look at your recovery to make sure that you continue feeling great. Regular exercise has countless short and long term benefits. With that being said, it can be possible to go too far and exercise too much. It sounds counterintuitive, but many times the quality of your workout depends on the quality of your recovery.
During any workout, we create physiological stress on the body at a tissue and cellular level. The body adapts to this stress by repairing the tissues and cells so that the next time you exercise, the body can better handle the strain. This is where the importance of recovery comes into play. The body needs time to repair and build itself back up. If you engage in strenuous workouts before proper recovery has been executed, the risk injury increases. By giving yourself adequate recovery time after your workouts, any long-term negative effects of the physical stressors will be minimized.
A major component of proper recovery is the amount of sleep you get on a daily basis. Sleep is an important aspect of any exercise program because it allows the body time to repair and strengthen itself between workouts. While you are working out, you want to shoot for a minimum of eight hours of sleep a day. While adequate sleep is necessary for everyday functioning, sleep becomes especially crucial when paired with exercise. Sleep, along with proper eating habits and hydration, are important for improving fitness, encouraging muscle growth, aiding in tissue repair and reducing the risk of injury and weight gain. So do yourself a favor and take a nap or head to bed early—your workout depends on it.