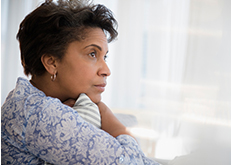 Dennis Pippenger, MD
Riverview Health Physicians OB/GYN
Before you reach menopause, chances are you'll experience some irregular bleeding patterns. After menopause, any bleeding is reason to see your healthcare provider. Here's why.
Bleeding after menopause or postmenopausal bleeding is when vaginal bleeding resumes at least six months after a woman experiences her last menstrual period. If it happens to you, see your healthcare provider to determine the cause, since bleeding in post-menopausal women can sometimes be a sign of endometrial cancer—cancer in the lining of the uterus—and it's critical to catch it early.
Causes of bleeding
Not all post-menopausal bleeding signals cancer. Still, if you experience it, see your healthcare provider, who will review your health history, do an exam and perform tests to explore all the potential causes of bleeding, including:
Polyps
Usually noncancerous growths that attach to the uterine wall or develop on the
uterine lining. Polyps can also grow on the cervix — the narrow end of the uterus that protrudes into the vagina — and may cause bleeding after sex.
Endometrial hyperplasia
Excess estrogen without enough progesterone can lead to a thickening of the uterine wall that can also cause bleeding. In some cases, the cells of the lining become abnormal and can lead to cancer of the uterus.
Endometrial atrophy
Lower estrogen levels can result in uterine wall thinning that can cause bleeding.
Depending on what's causing your bleeding, treatment range from medication to undergoing surgery to remove polyps or sometimes a hysterectomy. Also, if you've been diagnosed with endometrial hyperplasia, you are at increased risk for endometrial cancer. That means it's important that you have regular endometrial biopsies to ensure uterine wall thickening doesn't return.
Above all, be sure to maintain regular visits to your healthcare provider to ensure you get the pelvic screenings you need when you need them.
---