By Ryan Lawson, Exercise Specialist
The role mindfulness plays in improving your overall health and wellbeing can often be overlooked. Sometimes during a workout, you may be distracted by the stress of daily living or by thinking about other tasks you could be doing instead of exercising.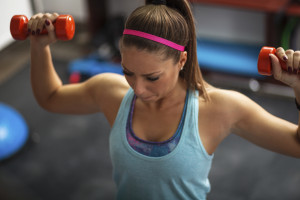 By being smart and engaging the mind during your workouts, there are many mental health benefits that can be achieved and carried into other parts of your life. Anytime you work out, it's important to maintain the flow between mind and body to achieve the most beneficial reward. Taking time to focus on your exercise can lead to improved quality of movement and a better workout.
There are several things to keep in mind to enhance the mind and body flow:
Have a purpose—Long-term goals are essential to being successful, but remember to have short-term goals for each individual workout. For example, challenge yourself to complete a specific cardio routine, increase your repetitions on certain strength-training exercises or burn a specific number of calories during your workout.
Remind yourself why you're exercising—It's easy to get distracted with outside responsibilities instead of focusing on your exercise. Make exercising your priority. The time you spend focused on exercise will be paid back with more overall energy, better self-esteem and less stress.
Slow down—Just because you rush through the workout, it doesn't mean the time will go by faster. Rush too much and you won't receive the full benefits of your workout, and you increase your risk of injury.
Always end on a positive note—At the end of your workout, take five minutes to cool down and stretch. During this time, reinforce all the positive things you've accomplished and remember how much better you feel.
Learn more about mindfulness with the help of a wellness coach at Riverview Health.