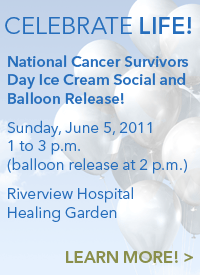 I can't think of anyone who hasn't been touched by cancer in some way – either through a personal experience or by supporting a friend, neighbor, or family member who has battled it. The American Cancer Society exists – with millions of supporters – to find a cure for cancer. The ACS wants to save lives and create a world with less cancer and more birthdays by helping people stay well, helping people get well, by finding cures, and by fighting back. Riverview supports the mission of the ACS. One of the ways the ACS goes about fundraising and bringing attention to the importance of fighting cancer is through their Relay for Life® events.
Relay For Life® is a fun-filled, overnight event put on each year by the ACS that includes more than 4,800 individual relay events nationwide. The event seeks to honor cancer survivors, pay tribute to the lives lost to the disease, and raise money to help fight it – all in individual communities. Locally, Riverview was a sponsor of both the Westfield (held at Westfield High School on May 13-14) and Noblesville (held at Forest Park on May 14-15) Relay for Life® events.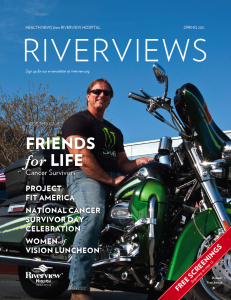 Relay teams gather with tents and sleeping bags with the goal of keeping one person on the walking track or path at all times. Relay For Life® brings together friends, families, businesses, hospitals, schools, churches…people from all walks of life. Teams seek sponsorship prior to the Relay, all with the goal of eliminating cancer.
 Relay For Life® opens as cancer survivors take the first lap. This emotional time sets the stage for the importance of each participant's contribution. Highlighting the evening is a luminaria Ceremony of Hope held after dark to honor cancer survivors and to remember loved ones lost to cancer. The luminaria candles line the track and are left burning throughout the night to remind participants of the incredible importance of their contributions. Overall, this is an awesome event that rallies communities and we definitely witnessed that at both of the locations we sponsored.
As researchers continue to work to find a cure for cancer, Riverview works to provide the best treatment possible to all of our patients battling cancer. The area's best physicians practice the art of healing every day, utilizing the most advanced technology available in cancer treatment. Learn about our Cancer Center. We are here to provide medical and emotional support to our patients.
Take a moment to meet one of our Radiation Oncologists, Dr. Thomas Dugan, as he talks briefly about the advanced technology we use in the Riverview Cancer Center.
Support for our Community
Riverview Hospital also offers resources to help our community live a healthier life. Are you a smoker and want to quit? Take a look at our free smoking cessation class. And be sure to check out our online events calendar – we offer many free seminars and events designed to help you learn about disease management, new technology and procedures, and general health and wellness.
Here's to a world with LESS CANCER and MORE BIRTHDAYS!