[slideshow id=5]
During National Nurses Week this year, we are so proud to recognize eight outstanding nurses who have gone above and beyond their normal duties to complete various levels of the ACE Program (Advancement of Clinical Excellence) at Riverview. Participation in the ACE Program is completely voluntary and is open to all nursing professionals at Riverview.
The ACE Program at Riverview Hospital was developed to promote the professional enrichment and growth of our nurses. It encourages nurses to take the initiative for professional growth and development in their clinical field, thereby enhancing quality of care, improving patient outcomes and promoting nursing satisfaction. Nursing excellence is a top priority in meeting Riverview's mission of excellence in patient care, education, research, and community service.
The ACE program promotes:
Personal responsibility
Respect for self and others
Innovation through teamwork
Dedication to caring and excellence in customer service
Riverview strives to provide opportunities for development and recognition of nursing excellence and we are so proud to recognize these awesome nurses:
Kim DeMasie, Critical Care
Rebekah Dillon, Emergency Center
Cathie Griffith, Surgery
Liz James, CardioPulomary Rehabilitation
Janet Lovitt, Rehabilitation Unit
Wendy Medley, Emergency Center
Cassie Warren, Emergency Center
Rita Webb, Endoscopy/Short Stay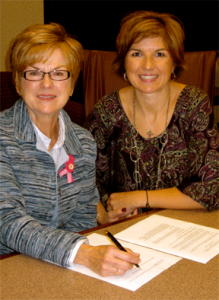 Recipients of the Riverview Hospital Foundation Walczak Family Nursing Scholarship were also announced today. This scholarship was set up by Riverview Operations Director Tara Walzcak-Daege and her mother Cecelia Walzcak in honor of Michael Walczak who succumbed to cancer in 2009. Michael was a very giving person who left behind the gifts of love, giving and compassion. He was also passionate about education – so his family started this fund to help continue to cultivate excellence and continuing education for nurses at Riverview. Funds awarded will go toward continuing education and educational materials.
The 2011 Walczak Family Nursing Scholarship Recipients include:
Sue Ellen Edrington, Education Coordinator

Cathie Griffith, Surgery
Nancy Walker, Education Coordinator
Interested in donating to the Riverview Hospital Foundation Walczak Family Nursing Scholarship? Contact the Riverview Hospital Foundation.
Congrats to these nurses and Happy Nurses Week to all Riverview nurses!